Musings: January-April 2015 (archive)
Musings is an informal newsletter mainly highlighting recent science. It is intended as both fun and instructive. Items are posted a few times each week. See the Introduction, listed below, for more information.

If you got here from a search engine... Do a simple text search of this page to find your topic. Searches for a single word (or root) are most likely to work.

If you would like to get an e-mail announcement of the new posts each week, you can sign up at e-mail announcements.
Introduction (separate page).
This page:
2015 (January-April)
April 29 April 22 April 15 April 8 April 1 March 25 March 18 March 11 March 4 February 25 February 18 February 11 February 4 January 28 January 21 January 14 January 7
Also see the complete listing of Musings pages, immediately below.
All pages:
Most recent posts
2023: January-April May-June (and misc)
2022: January-April May-August September-December
2021: January-April May-August September-December
2020: January-April May-August September-December
2019: January-April May-August September-December
2018: January-April May-August September-December
2017: January-April May-August September-December
2016: January-April May-August September-December
2015: January-April: this page, see detail above May-August September-December
2014: January-April May-August September-December
2013: January-April May-August September-December
2012: January-April May-August September-December
2011: January-April May-August September-December
2010: January-June July-December
2009
2008
Links to external sites will open in a new window.

Archive items may be edited, to condense them a bit or to update links. Some links may require a subscription for full access, but I try to provide at least one useful open source for most items.

Please let me know of any broken links you find -- on my Musings pages or any of my regular web pages. Personal reports are often the first way I find out about such a problem.
---

April 29, 2015

Fallout from the Ebola outbreak: more measles?
April 28, 2015
Briefly noted...
A new article puts some numbers on a point that many have thought about... The Ebola outbreak in West Africa will have consequences well beyond the immediate toll. The Ebola outbreak has devastated the economies of the affected countries; more specifically, it has devastated the health care systems.
The specific issue that the article addresses... Because of the Ebola outbreak, people are not getting their measles vaccinations. Measles is active in the region, and is highly infectious. The fatality rate is low in the developed world, but it is much higher among the malnourished. Modeling suggests that the increase in the number of measles deaths in the next two years could be as high as the number of Ebola deaths in the outbreak.
There is a point beyond the predictions... The authors suggest that a rapid major response be instituted as soon as possible. This would include a major campaign to get people caught up on their measles vaccinations. Of course, that should be part of a larger program to rebuild the affected countries, including their health care systems.
Articles about modeling of infectious diseases are probably not easy reading. In fact, the article has many assumptions, leading to considerable uncertainty in the predicted numbers. Nevertheless, the point comes across powerfully: the toll of the Ebola outbreak will continue well past the last Ebola case.
I encourage you to look over the news story listed below.

News story: Ebola now, measles next? (Center for Infectious Disease Dynamics, The Pennsylvania State University, undated.) The item was originally undated. It now bears a posting date, in 2018. That makes no sense, since it explicitly refers to the 2015 article discussed here. The date shown is probably some kind of re-posting date. From one of the institutions involved in the work. A useful short overview.
* News story accompanying the article: Infectious diseases: As Ebola fades, a new threat -- With health services devastated in the wake of Ebola, experts are bracing for a deadly measles outbreak in West Africa. (L Roberts, Science 347:1189, March 13, 2015.)
* The article: Reduced vaccination and the risk of measles and other childhood infections post-Ebola. (S Takahashi et al, Science 347:1240, March 13, 2015.)
* Recent post on Ebola: The tree where the West Africa Ebola outbreak began? (January 12, 2015).
* Next: An Ebola vaccine: 100% effective? (August 7, 2015).

More on measles:
* The measles vaccine: What does it protect against? (June 6, 2015).
* What if Mickey Mouse got measles? (January 27, 2015).

There are sections of my page Biotechnology in the News (BITN) -- Other topics on Ebola and Marburg and on Measles. They list related posts.
---
---

There is Mozart in the air -- encoded in orbital angular momentum
April 25, 2015
The following figure shows what happened in a recent experiment in data transmission.
What's the deal? The image was sent out encoded in a laser beam. More specifically, it was encoded in the angular momentum of the photons in the laser beam, loosely, how the light beam is twisted. The signal was sent through open air -- turbulent air -- but in good enough form that the receiver could decode it and reasonably reconstruct the original image. (Hm... Does it seem that he looks happier in the "received" image?)
Encoding information in light is not new. Encoding information in the angular momentum of the light is not new. What's new here is sending the encoded light through the open air, even turbulent air, rather than through an optical fiber. Development of software to analyze the degraded signal that was received was a key part of the work. The method has the potential to allow high speed and secure data transmission without a physical connection. The current work is a first step.

News story: Twisted light waves sent across Vienna. (Science Daily, November 11, 2014.) The photo at the top of this news story shows a laser beam "across the rooftops of Vienna". This is probably related to the top part of Figure 1 from the article; some version is in most news stories about this work. An enlarged version is available here. Unfortunately, the figure is not labeled. Note that the laser beam is essentially horizontal, across the rooftops, not aimed up into the air.
Video. It's labeled as a video abstract. (YouTube, 3 minutes.) Nice overview of the work, with examples of how the data is sent, received, and analyzed.
The article, which is freely available: Communication with spatially modulated light through turbulent air across Vienna. (M Krenn et al, New Journal of Physics 16:113028, November 11, 2014.)
More Mozart:
* Treating epilepsy with Mozart (December 4, 2021).
* Lux aeterna: Mushrooms; Mozart (December 7, 2009)

More about data transmission... Impact of watching movies on global warming (September 30, 2014).

More about analyzing angular momentum... Chile earthquake caused the day to become shorter (March 8, 2010).
---
---

April 22, 2015

Is clam cancer contagious?
April 21, 2015
Clams at various sites along the Atlantic coast of North America have leukemia -- the same leukemia. So reports a new article.
The basic evidence is straightforward: genetic analysis of cancer cells from clams at the various sites shows that all the cancer cells are very similar -- and they do not match the cells of the host. This would seem to imply that cancer cells are being transferred from one clam to another.
Few examples of direct transmission of cancer from one animal to another are known. Musings has noted the transmissible facial tumor of Tasmanian devils, which is probably transmitted by the biting that is common in those animals [links at the end]. A transmissible cancer of dogs is thought to be transmitted by sexual contact. But how do clams, which are attached to their home site, transmit cells from one to another? That is not known. In fact, direct transmission has not been shown in the wild, only inferred from the genetic analysis reported in the new work.
It's an interesting story -- and clearly incomplete. The article is primarily about the genetic analysis, but it is most interesting for the questions it raises about the transmission of the cancer. We'll skip the details of the data here.

News stories:
* Clam Cancer Rips Along Atlantic Coast -- A leukemia that's killing far-flung populations of softshell clams may be contagious. (J Madhusoodanan, The Scientist, April 9, 2015.) Now archived.
* In the sea, a deadly form of leukemia is catching. (Phys.org, April 9, 2015.)
The article: Horizontal Transmission of Clonal Cancer Cells Causes Leukemia in Soft-Shell Clams. (M J Metzger et al, Cell 161:255, April 9, 2015.)
Contagious -- virus vs cell? There is some potential confusion here. The materials for this post raise the question of whether a virus might be involved in this cancer. If so, would that negate the story that the cancer is directly contagious? Probably not. Those are distinct issues. If there is an infectious virus behind this cancer, then, yes, that could be a reason for the cancer being contagious. But the key evidence in the new article is that the cancers in different animals, even at different geographical locations, are genetically similar. That suggests that the cancer cells themselves are being transferred; a simple virus story would not account for the new genetic results.

Follow-up: Is clam cancer contagious? Follow-up (July 2, 2016).

Background posts about the transmissible tumor of the Tasmanian devil:
* The devil has cancer -- and it is contagious (June 6, 2011). Includes pictures.
* Why the facial tumor of the Tasmanian devil is transmissible: a new clue (April 5, 2013).

More... Immunization of devils: a treatment for a transmissible cancer? (April 24, 2017).

Also see: Could a tapeworm with cancer transmit the cancer to its human host? (November 16, 2015).

More leukemia... Why some viruses may be less virulent in women (March 1, 2017).

My page for Biotechnology in the News (BITN) -- Other topics includes a section on Cancer.

Other posts about mollusks include:
* Why don't your arms get entangled or stuck together? (June 10, 2014).
* Deceiving a rival male (August 28, 2012).
* The hydrogen economy -- in the mid-Atlantic (August 30, 2011). Bivalves.
---
---

Designing a less toxic form of an antibiotic
April 19, 2015
A drug may have more than one effect. Sometimes, it has one effect that is good, but another that is bad. An example is the class of antibiotics known as aminoglycosides. This includes streptomycin, one of the first antibiotics to be developed. It also includes gentamicin and its close relative sisomicin. These are very useful antibiotics, but they also tend to lead to hearing loss and kidney damage.
When a drug has multiple effects, we might ask if the effects can be separated. That is, is it possible to develop a modified drug that retains the beneficial effect without the side effect or toxicity? Sometimes this is done by more or less random exploration, but sometimes it is done with some knowledge of how the drug works. Of course, it may be that it is not possible.
A new article reports development of modified forms of sisomicin that cause less hearing damage. In doing this development work, the scientists made use of what they knew about how sisomicin works, both good and bad.
Here is part of the story...

Some results? The following figure shows how sisomicin and nine of the derivatives they made affected hair cells.

The scientists also found that some of the nine were about as good as an antibiotic as the parent compound sisomicin. They chose the best candidate from the lab work for further study. They then studied it in animal tests of bacterial infection, and showed that it is an effective antibiotic, with reduced side effects. They think the new drug should be advanced to testing in humans.
Bottom line... Using their understanding of how an antibiotic works, for good and bad, scientists have modified an antibiotic to make it less toxic. It's a nice story. Is it that simple? Not really. For example, although the modified antibiotic is about as good as the parent compound, there are differences. Further work will explore the significance -- and teach us even more about how the drug works.

News stories:
* New version of common antibiotic could eliminate risk of hearing loss. (Science Daily, January 2, 2015.)
* Redesigned aminoglycoside may eliminate risk of hearing loss. (C Carr, Pharmaceutical Journal, January 5, 2015.)
The article, which may be freely available: Designer aminoglycosides prevent cochlear hair cell loss and hearing loss. (M E Huth et al, Journal of Clinical Investigation 125:583, February 2015.) Check Google Scholar for a freely available copy of a preprint from the authors.
Posts about aminoglycoside antibiotics:
* Antibiotic action: effect of hydrogen sulfide (July 9, 2021).
* Antibiotics and viruses: An example of effectiveness (May 5, 2018).
* Using viruses to make a better disinfectant (April 22, 2012)

A recent post on the development of a new antibiotic: A new antibiotic: an interesting story about the discovery and action of teixobactin (March 7, 2015).

More about membranes: How flippase works (September 25, 2015).

More about hair cells: Restoring lost hearing: lessons from the sea anemone (November 15, 2016).

More on antibiotics is on my page Biotechnology in the News (BITN) -- Other topics under Antibiotics. It includes a list of related Musings posts.

More about toxicity: Predicting the toxicity of chemicals (September 11, 2018).
---
---

April 15, 2015

A DNA sequencing machine you can carry with you
April 14, 2015
Would you like to carry a DNA sequencing machine in your pocket -- or in your backpack along with your notebook computer?
Such a machine is under development. Here is what it looks like...
It's an interesting development, but let's be clear... it's not on the market. In fact, it doesn't work very well. That's the message from a new article testing the machine, called MinION, from Oxford Nanopore.
We have noted Oxford Nanopore before [link at the end]. Nanopore sequencing involves threading a single molecule of DNA through a tiny pore (a nanopore), and measuring the change in electrical conductivity. The four DNA bases change the conductivity differently. From the conductivity measurements, one reads off the DNA sequence.
At least, that's the idea. The problem is that the error rate is high -- about 30%. Even that is not necessarily a fatal flaw. So long as the errors are random, one can compensate for the high error rate by making many many many replicate measurements. The measurement is so easy to do that one could measure the sequence hundreds of times. The errors average out, and the sequence emerges.
In the new article, the scientists test the device with some simple examples of environmental samples, where the goal is to test for a pathogen. They show that they can find what they set out to find. However, because of the high error rate, they need to amplify the DNA before doing the sequencing. That sort of negates the simplicity and miniaturization. Nevertheless, it shows that the method works, even in its current state of development.
The company has not yet produced a commercial product. They have not met their own announced target dates. Yet the method has such great potential that there must be some optimism that they can improve the device to the point it becomes practical. Perhaps the real question is how long investors will continue to pump money into the company, based on its promise.

News story: Mobile DNA sequencer shows potential for disease surveillance. (Phys.org, March 26, 2015.)
The article, which is freely available: Bacterial and viral identification and differentiation by amplicon sequencing on the MinION nanopore sequencer. (A Kilianski et al, GigaScience 4:12, March 26, 2015.)
Excerpts from the final paragraph of the Discussion section of the article... "To date, the MinION™ work being reported has demonstrated the enormous potential of nanopore sequencing, while also highlighting that for whole genome sequencing approaches improvements will need to be made as the technology matures. ... The methods and results presented here ... will help inform and guide the community as applications are sought for the current generation as well as for future iterations of nanopore sequencing technology."

Background post about nanopore sequencing: Nanopores -- another revolution in DNA sequencing? (June 22, 2012). Describes how the method works.

More...
* Nanopore sequencing of DNA using synthetic membranes (May 15, 2021).
* Nanopore sequencing of DNA: How is it doing? (November 13, 2017).

There is more about genomes and sequencing on my page Biotechnology in the News (BITN) - DNA and the genome. It includes an extensive list of Musings posts on the topics.
---
---

Turning lignin into a useful product
April 11, 2015
Processing natural cellulosic materials as a source of renewable energy is still a problem. Making ethanol (or some other biofuel) is the common goal, but the economics are questionable. Part of the problem is the lignin that inevitably accompanies cellulose in natural plant materials; that natural combination is called lignocellulose. The lignin makes the cellulose inaccessible and itself is of little value.
A recent article offers a new approach. The scientists demonstrate a new process for removing the lignin. A key point is that the lignin is removed in a form that may well be of commercial value.
The following figure serves as a partial flowchart, with some sample results...

What is important is that most of the lignin material is recovered as a small number of specific compounds that should have commercial value. Commonly, breaking down lignin leads to a zoo of products, making it of little value; in fact, it is common that the lignin is just burned, a low-value use. The catalyst developed here breaks a specific bond in the complex lignin structure, so that most of the lignin is recovered in a predictable form.
Vanillin is a familiar example of the type of phenolic compound made from the lignin. The process here does not make vanillin, but it makes similar compounds of value. (Vanillin is in fact made from lignin in some processes.)
There is little in the article about economics, other than the discussion of the value of the lignin products. It is the economics that determines whether such proposals ultimately succeed or fail. This is early work at the research lab level; the sample used above is about one gram. Scientists need to follow up, see how this works at a larger scale, and then begin to evaluate the economics. One issue of obvious concern is that the process as presented here uses an expensive metal (Pd) as one of the catalysts. In general, that is not good. However, the real cost of a catalyst depends on how efficiently it is used, and we don't know that yet. Further, once a process has been discovered, it is sometimes possible to find a replacement catalyst. The comment here is an example of the hurdles that must be faced, not a prediction of failure.
Many processes have been proposed for using lignocellulose. So far, none has been turned into a practical large scale economical process. It is probably the fate of most lab scale developments to ultimately fail. We don't know how this one will turn out, but it seems worth noting.

News story: Purdue process converts lignin in intact biomass to hydrocarbons for chemicals and fuels. (Green Car Congress, December 18, 2014.) Good overview.
The article: A synergistic biorefinery based on catalytic conversion of lignin prior to cellulose starting from lignocellulosic biomass. (T Parsell et al, Green Chem 17:1492, March 2015.)
The conflict of interest statement in the article (p 1498) notes that some of the authors are involved with "a start up company focused on making specialty chemicals from renewable sources."

Other examples of catalyst development...
* Upgrading ethanol? (April 11, 2016).
* A simpler way to make styrene (July 10, 2015).

More about using lignin: Progress toward making a homogeneous product from diverse lignins (May 17, 2019).

More about using biomass: Flash photo-pyrolysis: converting banana peels to useful chemicals (March 5, 2022).

There is more about energy issues on my page Internet Resources for Organic and Biochemistry under Energy resources. It includes a list of some related Musings posts; some are on use of cellulosic biomass.
---
---

April 8, 2015

Using your smartphone to detect cosmic rays
April 7, 2015
It's not hard. In fact, the materials used in the camera naturally respond to cosmic rays, just as they do to light.
Look...
It's just a matter of developing some software to keep track, and then reporting what you find to interested scientists. The smartphone cosmic ray detector isn't particularly sensitive, but there are a lot of devices out there. Some scientists think that the world's smartphones, taken together, could be the best cosmic ray detector we have.
There are two labs working on this: University of Wisconsin, Madison (UWM) and University of California, Irvine (UCI -- in collaboration with UC Davis). The former is oriented to educational use (a teaching tool), while the latter is oriented to scientific application (data collection). Consistent with that, the web site for the former is perhaps more helpful to the beginner, but there is more technical detail for the latter.
The purpose of this post is to introduce the topic, and offer some web sites that have more information -- and the software that will allow you to record your cosmic ray encounters. Information about both projects is included here. You can use the comments above as a guide, but I encourage you to explore both and see what you find interesting or useful.

News story about the UCI work: Seeking the Source of Cosmic Rays. (M Lemonick, New Yorker, October 28, 2014.) Also notes the UWM project.
News story about the UWM work:
* How to turn your Android phone into a cosmic ray detector. (Kurzweil, October 7, 2014.) Includes some brief instructions.
Lab web sites, for general information, software and instructions:
* CRAYFIS. That's Cosmic Rays Found in Smartphones, from UCI. Android and iOS. Now archived.
* DECO. That's the Distributed Electronic Cosmic-ray Observatory, from the Wisconsin IceCube Particle Astrophysics Center at UWM. Android only for now; iOS planned (2015, it says).
There are two articles posted at ArXiv (where everything is freely available). Neither is well identified. I can't tell whether or not these are articles intended for publication, and if so, what stage they are at. Since I make a point of basing most Musings posts on peer-reviewed and published articles, I just caution that the status of these is uncertain.
* Recent article: Observing Ultra-High Energy Cosmic Rays with Smartphones. (D Whiteson et al, Submitted October 10, 2014.) From the UCI group. The article presents how they think the smartphone population would work in practice as a network of cosmic ray detectors. Much of the article is quite readable.
* That refers to the following background article: Using CMOS Sensors in a Cellphone for Gamma Detection and Classification. (J J Cogliati et al, January 7, 2014.) This is reference 15 of the Whiteson paper (above); it is not clearly identified there. It is a more technical discussion about the camera sensors.
---
---

What if two of the world's most destructive pests spent the evening together in Fort Lauderdale?
April 4, 2015
Worldwide, termites cause some 40 billion dollars of damage a year. Two species of subterranean termites, Coptotermes formosanus and Coptotermes gestroi, are perhaps the most important. They are commonly known as Formosan termites and Asian termites, respectively. They have spread to many areas around the world, dispersed largely by human activity.
The two species generally live in different places. Where their territories overlap, such as in southern Florida, they seem to have different breeding behaviors. These points are behind why they are considered different species.
In 2013, scientists at the University of Florida Institute of Food and Agricultural Sciences, in Fort Lauderdale, noted that both of these termite species were out doing mating flights on the same nights. In 2014, they followed up with careful observations, and confirmed the finding: on many nights, the two species were out together. What does this mean? Could the two species interbreed? If so, what would be the consequences?
To pursue these questions, the scientists did laboratory tests with these termites. The results are of concern. The species do interbreed, at least in the lab.
The following figure shows one key result...

These results suggest that interbreeding of these two termite species could lead to increased population size. That might lead to increased damage.
There are limitations to the study. The crosses were done entirely under lab conditions. Do these species interbreed "in the wild"? We don't know. Yet. It's important to find out. We also don't know if the hybrids are fertile. (It will take about five years to find out.) If they are, that opens up further questions.
There are some other observations, which support the potential for hybridization. Field observations during the mating flight events showed that inter-specific pairings occurred, though there is no information on the consequences. In the lab, the scientists did observe that the males of one of the species actually prefer females of the other, if given a choice (Figure 3C). Further, the rate of successful mating and colony formation in the lab seemed about the same for all combinations. These various observations suggest there is little barrier to hybridization, though key information is not yet available.
The article starts with a simple observation: the two kinds of termites are now out together. That leads to questions, which the scientists have begun to test under lab conditions. The results suggest that the system is of concern and needs further study.

News stories:
* Two most destructive termite species forming superswarms in South Florida. (Science Daily, March 25, 2015.)
* Florida Scientists Discover Super Termites, and They're Not Genetically Modified. (R Levine, Entomology Today, March 25, 2015.)
The article, which is freely available: Hybridization of Two Major Termite Invaders as a Consequence of Human Activity. (T Chouvenc et al, PLoS ONE 10(3):e0120745, March 25, 2015.)
---
---

April 1, 2015

Disease outbreaks: Trends and perspective
March 31, 2015
Outbreaks. We keep hearing about them. Old diseases and new. Some of them appear in Musings.
A new article provides some perspective on the frequency and nature of outbreaks. The following figure summarizes the findings.
The figure shows, for example, that the number of outbreaks has more than tripled over the 30-year period. The number of diseases involved has grown some, too. The authors note that the number of people affected is declining some; apparently we are having more but smaller outbreaks.
You might suspect that there are questions about possible biases in collecting such records over a long time period from around the world. Indeed, this is an issue the authors deal with. They even try to dissect how the Internet affects collection of disease information. Most importantly, they detail what they did; others can challenge their methods, and develop better ones.
There is no big message here. It is a significant achievement to collect the data and make the database available. The authors refer to the article as reporting their "preliminary findings" (in the abstract). It will serve as a resource to many investigators, and it will be developed further.

News story: Infection outbreaks, unique diseases rising since 1980. (Brown University, October 28, 2014.) From the lead institution.
The article: Global rise in human infectious disease outbreaks. (K F Smith et al, Journal of the Royal Society Interface 11:20140950, December 6, 2014.) For a freely available copy, check Google Scholar, and look at the item with the address including "classic". The article also has lists of the top 10 diseases over certain time periods.
A recent post about a disease outbreak: Chikungunya in the Americas -- are vaccines near? (March 17, 2015). This disease is caused by a virus, and is transmitted by mosquitoes. The virus infects a wide range of animals, and outbreaks may well begin with transmission by mosquitoes from some non-human animal to humans; that is, it is a zoonosis.

A post on the broad issue of diseases, with an emphasis on how interconnected we all are: One health (November 15, 2010).

A post on the major types of food poisoning: The cost of food poisoning (October 14, 2014).

More databases: 124,993 and counting: cataloguing plant species in the Americas (February 26, 2018).

My page for Biotechnology in the News (BITN) -- Other topics includes a section on Emerging diseases (general), as well as sections on some specific diseases. Those sections include lists of related Musings posts.
---
---

Observing the birth of quadruplets
March 29, 2015

It's a remarkable study. There are theories about how stars form, but only limited observations of the process. Astronomers think star formation is fast -- on their time scale, perhaps a hundred thousand years or so. That's a tiny fraction of a star's lifetime; catching a star during formation is rare.
Here, we are observing the birth of a 4-star system. It's a favorable case: the star system is rather close, in astronomical terms, and the four clumps are rather far apart. Astronomers are able to resolve them -- by pushing the limits of modern technology. They then interpret their findings in terms of the birth of a 4-star system. The four clumps are developing star embryos. It is astronomers' first snapshot of the birth of a multiple star system so early in its development. Half of average-size stars occur in groups of two ("binaries") or more, but little is known about how they develop.
The figure above shows gas clumps. They are at various stages. Stars form by condensing out of gas clouds; the condensation is driven by gravity. If the gas cloud was uniform, it would presumably condense uniformly into a single object. But many real gas clouds aren't uniform, and this one seems to be on its way to condensing into four objects -- one already well formed and three more that are distinct enough to be noted. All are large enough that they should become stars.
There is a lot of hypothetical in there. This is an unusual snapshot, in that it -- apparently -- shows the birth of quadruplets. The astronomers are having a field day, trying to interpret this, and predict its future. They do a lot of computer modeling, and they claim the results at hand already help them to favor some models over others. At least in this case, it seems that the primordial gas clouds (filaments -- the white regions in the figure) have fragmented prior to star development.
As to the future, which will allow further refinement of the models... it will be revealed over the coming 40,000 years. Stay tuned.

News stories:
* In a first, astronomers catch a multiple star system in the process of forming. (Science Daily, February 11, 2015.)
* Before They Were (Binary) Stars. (M Young, Sky and Telescope, February 12, 2015.)
* News story accompanying the article: Star formation: Sibling rivalry begins at birth. (K M Kratter, Nature 518:173, February 12, 2015.)
* The article: The formation of a quadruple star system with wide separation. (J E Pineda et al, Nature 518:213, February 12, 2015.)
More about star formation:
* Star formation has slowed down (December 4, 2012).
* Cometnapping in the stellar nursery (August 4, 2010).

More about quadruplets: Twins (April 30, 2009).

And more... This could be you (July 8, 2008).
---
---

March 25, 2015

Happy birthday, Phil Trans
March 25, 2015
Born March 6, 1665. 350 years old earlier this month, and still going strong.
Briefly: Philosophical Transactions - the world's first science journal. (Royal Society.)
For more...
* Publishing the Philosophical Transactions -- the economic, social and cultural history of a learned journal, 1665-2015. (University of St. Andrews.) This page is part of a larger site about the journal.
* 350 years of Philosophical Transactions. (FORCE. Now archived.) More good pictures!
---
---

Radioactivity released into ocean from Fukushima nuclear accident reaches North America
March 23, 2015
The nuclear reactor accident at Fukushima in 2011 released radioactivity into both the air and the ocean. Scientists have been trying to predict and then actually measure where it went. Reasons concern possible effects on the environment, as well as a better understanding of how material circulates around the Earth.
A group of scientists, mainly in Canada, has been looking for the Fukushima radioactivity approaching the northeastern Pacific Ocean, off the coast of the American west. They report their findings in a new article.
The following graph summarizes some of the findings. It contains data and predictions based on modeling.
The main point above is to show that we can now see the Fukushima radioactivity arriving in the Pacific Ocean off the west coast of Canada. We can also see that the observed radioactivity is at least roughly consistent with predictions. It will take a few more years before we know whether the results follow the other features of the predictions.

Is the level of radioactivity arriving in North America from Fukushima of concern? That is a separate question, and gets us into the murky area of the effects of low level radiation. The short answer is that no one knows for sure what the effects are of such low levels. The effects, if any, are too small to measure directly in human populations.
A simple place to start is to note that Canadian regulations allow Cs-137 in drinking water at a level of 10,000 Bq/m3. The highest levels predicted with the Fukushima contribution are less than 10 Bq/m3 -- a thousand fold below the regulatory threshold. Such regulatory thresholds are sometimes controversial, and not fully based on well-documented facts. However, the Fukushima contribution seems quite negligible, now and in the future.
A more complex issue is how the Cs-137 affects life in the ocean, and how it might affect us if we eat fish that lived in the waters with the Fukushima contribution. The authors summarize what is known. Again, it seems quite likely that the Fukushima contribution will be small in the oceans off North America, and will not affect humans even indirectly. This is based on comparing expected levels to regulatory limits, and also comparing them to natural levels of exposure to radioactivity.
The general tone is that the Fukushima radioactivity is not a big concern in North America. Caution... That does not imply that the Fukushima event was minor. It was a huge event in the Fukushima area. A level of 68 million Bq/m3 was measured at one ocean site near the reactor shortly after the event. But radioactivity levels, and their effects, fall off with distance and time. The current article illustrates how we think that is occurring in the Pacific Ocean off North America.

News stories:
* Fallout from radioactive Fukushima rising in west coast waters. (M Munro, Canada.com, December 29, 2014. Now archived.)
* Tracking Fukushima radiation across the Pacific. (EarthSky, January 6, 2015.)
The article, which is freely available: Arrival of the Fukushima radioactivity plume in North American continental waters. (J N Smith et al, PNAS 112:1310, February 3, 2015.)
For perspective... The article notes that the amount of Cs-137 released at Fukushima was about 1016 Bq. The volume of the Pacific Ocean is about 1018 m3. If the entire Cs-137 release were diluted uniformly in the Pacific Ocean, the level would be 0.01 Bq/m3. It's a big ocean.

There is an interesting technical point about the characterization of Cs-137. The scientists can actually tell whether the Cs-137 they measure came from Fukushima. How? Because Cs-137 emission is accompanied by emission of another radioactive isotope, Cs-134. The latter is short-lived; there is essentially no measurable Cs-134 left from the days of open-air weapons testing. Finding Cs-134 marks the radioactivity as coming from Fukushima. It's a matter of calculation to dissect a Cs-137 measurement to see how much of it came from Fukushima.

Previous posts about Fukushima include:
* Effect of radiation near Fukushima on local monkeys (August 10, 2014).
* Berkeley RadWatch: Radiation in the environment -- Follow-up (May 6, 2014).
* Berkeley RadWatch: Radiation in the environment (February 24, 2014).

Also see: A better way to oxidize americium? A step toward improved processing of nuclear reactor waste? (December 7, 2015).

My page of Introductory Chemistry Internet resources includes a section on Nucleosynthesis; astrochemistry; nuclear energy; radioactivity. That section contains some resources on the effects of radiation. It also includes a list of related Musings posts.
---
---

A better way to un-boil an egg -- and why it might be useful
March 20, 2015
There is some light-hearted hype here, and one of the news stories even got the wrong part of the egg in their photo. No, no one has un-boiled an egg. But scientists have done something related, using an egg protein. And it is a method that might actually be useful.
Let's jump in and look at an example of the results, as reported in a new article.

Scientists have ways to try to refold recombinant proteins. The method described in the new article may well be simpler -- and much less expensive -- than methods already in use.
What is the new method? It uses a vortex fluid device -- a VFD. The device is essentially a centrifuge; the protein molecules are moving in a thin film of liquid along the surface of the centrifuge tube. This provides a shear stress, due to the increasing centrifugal force along the tube. The shear stress helps separate the misfolded, and entangled, proteins. The scientists discuss background work, where such forces have been used to manipulate other molecular structures. Here, they tune the conditions so that it works to assist with separating misfolded proteins.
It is not clear how widely applicable the new method will be. The scientists test it here on the model protein HEWL, and on two other recombinant proteins. That had to develop proper conditions for each case, but all worked. At the least, VFD may provide another option. It won't unboil eggs, but it may help make some commercially useful proteins cheaper.

News stories:
* Chemists find a way to unboil egg whites: Ability to quickly restore molecular proteins could slash biotechnology costs. (Science Daily, January 26, 2015.)
* Scientists "unboil" eggs. (Naked Scientists, January 30, 2015.) Caution... The picture shows the wrong part of the egg. In fact, the story confuses some of the details, but it is a fun presentation, and broadly good.
The article: Shear-Stress-Mediated Refolding of Proteins from Aggregates and Inclusion Bodies. (T Z Yuan et al, ChemBioChem 16:393, February 9, 2015.)
I don't see any Musings posts on the folding of recombinant proteins. However, as noted, protein folding is an important natural process -- one that goes wrong in certain diseases. Prion diseases, such as scrapie and BSE, are now considered classic cases of protein-misfolding diseases. Increasing evidence suggests that some other neurodegenerative diseases also involve misfolded proteins.

The following posts note examples:
* How BMAA may cause motor neuron disease -- a clue? (July 1, 2014).
* Interfering with prion propagation? (April 5, 2014).

Also...
* For more about prions, see my page Biotechnology in the News (BITN) - Prions (BSE, CJD, etc). It includes a list of related Musings posts.
* My page for Biotechnology in the News (BITN) -- Other topics includes a section on Alzheimer's disease. It includes a list of related Musings posts.

Another unusual centrifuge: The paperfuge: a centrifuge that costs 20 cents (April 17, 2017).
---

March 18, 2015
---

What is the proper length for eyelashes -- and why?
March 16, 2015
We have an answer, thanks to what National Geographic calls "perhaps the most rigorous study of eyelash aerodynamics ever conducted". (From the news story listed below.)
The following figure shows the answer to the first part of that question...
That raises a number of questions. Let's look at some of them.
What do eyelashes do? They affect the air flow around the eye. They slow the air, thus reducing evaporation from the eye; they also deflect particles from entering the eye.
How did the scientists find that ratio? That part is observation; they measured the eyelash length and eye width for numerous mammals, and observed that there was a relationship.
Is there some reason for that ratio? This question led the scientists to do some experimental tests. They made an artificial eye structure, with artificial eyelashes -- and tested it in a wind tunnel. That's a miniature wind tunnel, based on a computer fan. What did they find? That the ideal length of the lashes was about one third the eye width.
The following figure shows an example of their wind tunnel results.

In summary, the results of that test show that short eyelashes reduce deposition into the eye, but longer ones are not as good. The results provide experimental support for there being an optimal length for eyelashes.
The scientists did other tests, with the same general pattern of results. Further, they did theoretical calculations of the aerodynamic effects of eyelashes of various lengths. The general picture is that there seems to be an optimum length for the eyelashes. It is roughly 1/3 of the width of the eye. (They say 0.3 +/- 0.1.)

Are there any practical implications of this work? First, we should understand that the eyelashes are part of the defense mechanisms that protect the eye. That has long been recognized; for example, people without eyelashes have a higher incidence of eye infections. How eyelashes work has not been clear. Thus this article is a contribution toward understanding the body. Beyond that... Well, the authors do note that fake eyelashes commonly used for cosmetic purposes are much too long, and are probably not good for the eyes. They also note possible engineering applications, such as hairs to protect sensors, solar panels or robots.
It's an offbeat article, but it illustrates some interesting combinations of ideas. An engineer reading this post will want to know what Reynolds number the scientists used for their testing; the authors note that their testing is for laminar flow, during walking. And if you ever wondered what an engineer sees upon looking a goat in the eye, now you know.

News story:
* Longer Eyelashes May Be Sexier, But Not Always Better. (National Geographic, February 24, 2015.) Now archived.
* Easy on the eyes: How eyelash length keeps your eyes healthy. (Georgia Tech, February 25, 2015.) From the university where the work was done.
The article: Eyelashes divert airflow to protect the eye. (G J Amador et al, Journal of the Royal Society Interface 12:20141294, April 6, 2015.) Check Google Scholar for a copy.
Previous posts that mentioned eyelashes or wind tunnels: none

Previous post about eyes: How can the mantis shrimp see so many colors of UV? They use filters (August 30, 2014).

* Previous post about wind: How rocks travel (November 14, 2014).
* Next: At what wind speed do trees break? (April 2, 2016).
* and... Atmospheric rivers and wind (May 9, 2017).

More from the same lab: A mammalian device for repelling mosquitoes (December 10, 2018).

Another mention of the Reynolds number -- along with the Weber number: What determines the size of liquid droplets from a sprayer? (September 21, 2018).
---
---

Shark skin inspires design of a new material to reduce bacterial growth
March 13, 2015
Bacteria stick to surfaces. In fact, they form special structures, called biofilms, that are specialized for sticking to surfaces.
Bacteria in biofilms are hard to deal with. They aren't easily washed away. Further, they tend to be resistant to antibiotics. Biofilms can serve as reservoirs that lead to infection. It is a particular problem in hospitals. Microbiologists have become increasingly aware that the problem of bacterial biofilms needs to be dealt with directly.
A new approach to dealing with biofilms has come from sharks. Turns out that things don't stick well to shark skin. With modern microscope tools, scientists have come to realize that shark skin has a complex surface texture. Inspired by that as a clue, a team of scientists has developed a new material with a somewhat similar complex surface texture. They call it Sharklet, and it resists bacterial attachment, or "fouling". A recent article reports some findings on how well Sharklet works.

Here is an example of the results...

In summary, the surface that was roughened with the Sharklet texture gave the best results. Fewer bacteria stuck to it initially in this touch-transfer test, and persistence after drying was reduced. Other tests used immersion or spray to transfer the bacteria, mimicking spills or sneezes. All the tests led to the same general conclusion.
We should emphasize that the effectiveness of Sharklet is entirely due to the physical nature of the surface. There are no antibacterial additives or such on the surface.
How might one use Sharklet? Transmission of bacteria in hospitals is a serious problem. In part, it is due to the bacteria "hanging around", in a relatively resistant state, on surfaces. Cleaning is useful, but not sufficient. Use of the textured surface could provide an extra layer of protection to help reduce the bacterial load in hospitals.

News stories:
* Shark Skin-Like Wallpaper Highly Effective In Preventing MRSA Superbug Growth On Hospital Surfaces. (Medical Daily, September 17, 2014.)
* Sharks' skin has teeth in the fight against hospital superbugs. (BioMed Central, September 17, 2014.) Press release from the journal publisher.
The article, which is freely available: Surface micropattern limits bacterial contamination. (E E Mann et al, Antimicrobial Resistance and Infection Control 3:28, September 17, 2014.) The article, and most work on the material, is from a professor at the University of Florida who invented Sharklet, and is involved in the company making it. The role of the company is acknowledged in the article. That's fine, but it would be nice at some point to see some independent testing.
I have not seen any discussion of the possibility that the bacteria would, over time, develop the ability to stick to the surface material. This needs to be tested.

Thanks to Thien for bringing this work to my attention.

More about Staph and biofilms: Can the Staph solve the Staph problem? (July 12, 2010).

Biofilms in the food processing industry: Salmonella and food contamination; the biofilm problem (April 28, 2014).

Another post that tries to deal with bacteria by physical means: Black silicon and dragonfly wings kill bacteria by punching holes in them (January 28, 2014).

Antiviral surfaces... ... An antiviral coating for medical textiles (July 12, 2020).

More on antibiotics, and the broad topic of reducing bacterial growth, is on my page Biotechnology in the News (BITN) -- Other topics under Antibiotics. It includes a list of related Musings posts.

This is an example of bio-inspired design, in that the observations of the shark skin were used in designing the new material. For more, see my Biotechnology in the News (BITN) topic Bio-inspiration (biomimetics). It includes a listing of some other Musings posts in the area.

More about biomimetics... Biomimetics -- an overview (December 9, 2015).

Another post that turned out not be about real sharks: How the price of oil might affect what seals eat for dinner (January 18, 2015).

Real sharks...
* Cuttlefish vs shark: the role of bioelectric crypsis (May 10, 2016). Well, some are real. Others are just iPad images.
* Cannibalism in the uterus (May 31, 2013).

More sneezing... Disease transmission by sneezing -- in wheat (July 29, 2019).

More on plastics... A simpler way to make styrene (July 10, 2015).
---

March 11, 2015
---

Media hype about scientific articles: Who is responsible?
March 9, 2015
Science communication is a big deal these days -- with Musings just one small example of a wide range of resources that try to "spread the news" about scientific developments. We don't always get it right.
A recent article examines one aspect of the problem, where news coverage gives advice to the consumer -- advice that is sometimes not justified by the work at hand. In particular, the scientists look at the role the universities themselves may be playing in hyping the work. It is common that a university involved in an article issues a press release; the news media are likely to use the press release as part of the basis of their own reports. How much more they do varies.
The article focuses on a collection of all health-related press releases accompanying articles from 20 major universities in the UK for 2011. The authors examined the press releases and the news stories about the articles.
The following figure is an example of the findings.

The graph above is for one type of hype, described as advice. The findings for two other types of hype are qualitatively similar.
The work establishes a rather clear correlation between hype in university press releases and hype in resulting news stories. Since the news stories typically build on the press releases, a possible reason for the connection is clear. In an ideal world, each news outlet would try to verify the information. But it isn't an ideal world. Anyway, doesn't a general consumer news outlet have some right to expect that the content of university press releases is high quality, especially in technical fields that the media themselves may not know well?
The work has led some to suggest that universities need to make more effort to provide high quality, low-hype press releases. Of course, many of them already do a good job. One issue is the role of the scientists in the development of these press releases. Traditionally, most scientists aren't very interested in popular news coverage of science. Maybe they should be. Maybe they should be responsible for the quality of the press releases about their work. Maybe the press release should be part of the scientist's record. Some thoughts, hopefully constructive, and certainly provocative. For more, see the editorial from the journal, listed below.
There are cautions about the study. The authors discuss some of them, such as the inability to establish cause and effect relationships here. For example, it is possible that news story hype correlates with press release hype because some articles lend themselves to being easily hyped. Nevertheless, the current article is a step toward focusing attention on the problem of media hype. We should also note that some issues here are specific for articles with health-related content, where there is a clear direct relevance to the reader.

News story: Most exaggeration in health news is already present in academic press releases: Scientific community can improve the situation. (Science Daily, December 10, 2014.) Science Daily typically posts stories based on a press release, which is acknowledged. In this case, the press release is from the journal. In my experience, Science Daily stories usually closely follow the press release, but are somewhat improved by the editors.
* Editorial accompanying the article: Preventing bad reporting on health research -- Academics should be made accountable for exaggerations in press releases about their own work. (B Goldacre, BMJ (British Medical Journal) 349:g7465, December 9, 2014.) The general tone of the editorial is that scientists should assume responsibility for the quality of the press releases about their work. As an example of how this might be implemented, the author suggests that that the press release show the names of the scientists who helped write it, and that it be maintained along with the article.
* The article, which is freely available: The association between exaggeration in health related science news and academic press releases: retrospective observational study. (P Sumner et al, BMJ (British Medical Journal) 349:g7015, December 9, 2014.)

What about Musings? I make considerable effort to try to get the facts and the comments correct. But it is impossible to get it all right.

Musings tends to focus on single articles, or even parts of single articles. Doing that can easily lead to distortion. Science stories are more than single articles. For example, an article may be of interest because it presents something that seems unusual. It may be of interest, but science only accepts the result as valid when it is confirmed. It may be natural that there is some hype when talking about individual findings out of context -- which is what we commonly do. That is why we continually remind readers that what we have is a report; the full true story develops over time.

In choosing news stories to list in Musings posts, I try to include ones that I think are good. No source is always good; I don't rely only on the source name. Sometimes I note problems with certain stories, but sometimes I don't. I just assume readers will show some judgment in reaching conclusions. (Hm, I wonder... ) Headlines are notorious for hype; we just take that for granted.

If you see errors -- whether of typos, facts, or interpretations -- please let me know. (Most news media would also appreciate such comments.)

Here are two recent Musings posts that raised some issues about the quality of the news reports.
* Can eating peanut protein reduce the incidence of peanut allergy? (March 3, 2015). In this post, one of the news sources I used was the UK NHS. Their articles typically comment on the news coverage. In this case, they said it was mostly good, other than some tendency to miss the distinction between eating peanuts and eating peanut-based foods -- a problem they traced to the university news release. (One of the news stories for the current post is from them.)
* Why are some types of cancer more common than others? (February 6, 2015). This post about cancer incidence included discussion of the news coverage. The issues here were complicated, but the reluctance of one of the scientists to help may have contributed to the problems with the news coverage.

Another post about science news... The quality of science news (April 26, 2017).

More about news: Comparing how true and false news stories spread (June 5, 2018).

My page for Biotechnology in the News (BITN) -- Other topics includes a section on Ethical and social issues; the nature of science.
---
---

A new antibiotic: an interesting story about the discovery and action of teixobactin
March 7, 2015
The discovery of a new antibiotic was announced recently. Not the approval, but the discovery.
We are in desperate need of new antibiotics. Many are discovered, but few turn out to be useful. Why is the mere discovery of a new antibiotic newsworthy? There are some features of the story that -- just possibly -- could open the door to much more.
Here is that newly discovered antibiotic...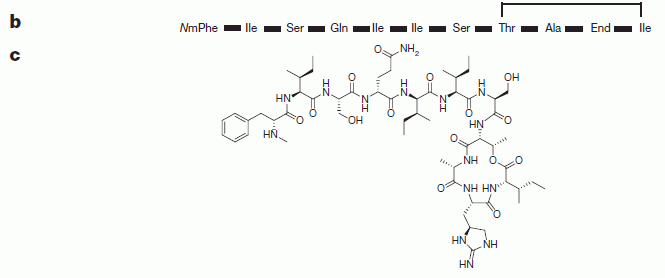 What is of interest?
How it was discovered. The traditional pathway for finding antibiotics is to isolate possible producing organisms, grow each one up, and test what it made to see if it has antibiotic activity (inhibits bacteria). Many useful leads have been found this way, but in recent years there has been little. It seems that we have more or less exhausted this source.
What did the scientists do that was novel in the new work? They tested what the possible producing organisms made without first isolating them -- at least, without isolating them completely. This is important. We now realize we don't know how to grow the vast majority -- perhaps 99% -- of microbes in the lab. Why is a long story in itself, but let's note that in nature, most microbes don't grow alone; they grow in a complex community with many organisms. For a microbe, growing in "pure culture" (without other kinds of organisms around) is an unnatural act; to get it to work requires that we understand what the organism needs to grow.
In the new work, the scientists developed an apparatus where individual cells could grow with some physical separation from other cells, but still close enough that they could share nutrients -- or whatever it is members of the community do together. The general approach for doing this was to isolate single cells into little droplets of agar, but then incubate these droplets in ordinary soil -- the community environment in this case. The products of individual cells could be identified, via the agar droplets, but the cells had been able to grow in something resembling their natural environment.
Good. But that might lead to a problem. What good does it do to find a potentially interesting product if we can't grow the organism that made it? Good question. Until recently it might have been a fatal barrier to using such techniques, but now there are possible solutions. For example, with the compound at hand, we can determine its structure, and perhaps make it by some other means. Or we can now make a special effort to cultivate the producing organism -- knowing it is of special importance. Or we might sequence its genome, identify the genes for making the product, and move them to a new host where, with some luck, they will produce the compound of interest.
In this case, the scientists were able to grow the producing organism well enough to use it for lab-scale antibiotic production. They have also determined the genome sequence and found the genes responsible for making the antibiotic.
A special feature of this antibiotic. After finding the candidate antibiotic, the scientists do the usual tests one would do with something novel. This includes broadly testing it against a variety of organisms at various levels. One thing to watch for is how rapidly resistant mutants arise. After all, antibiotic resistance is one of the major problems nowadays that leads to the need for new antibiotics: the old ones aren't working very well anymore.
In this case, they didn't find resistant mutants. They looked harder, and still didn't find any. The possibility that an antibiotic doesn't lead to resistance is intriguing -- and has been the focus of much news attention. Other antibiotics that act perhaps similarly to the new one have also led to slow development of resistance. So perhaps it is plausible. Not that resistance won't develop, but that it may take much longer. It's certainly a feature to note.

I think this article is of most interest for opening up a new approach to antibiotic discovery. In fact, the scientists have discovered new antibiotics with their system. The current one, the most promising, has some interesting features, but it is a long way to the clinic. That it may be active against some pathogens that are hard to treat provides a good incentive to continue.

News stories:
* New Antibiotic from Soil Bacteria -- Researchers have isolated a new kind of antibiotic from a previously unknown and uncultured bacterial genus. (Anna Azvolinsky, The Scientist, January 7, 2015.) Now archived.
* A New Antibiotic That Resists Resistance. (E Yong, National Geographic blog, January 7, 2015.) Now archived.
* News story accompanying the article: Antibiotics: An irresistible newcomer. (G Wright, Nature 517:442, January 22, 2015.)
* The article: A new antibiotic kills pathogens without detectable resistance. (L L Ling et al, Nature 517:455, January 22, 2015.) Check Google Scholar for a copy.
Other posts on the development of new antibiotics:
* Staph in your nose -- making antibiotics (October 9, 2016).
* Designing a less toxic form of an antibiotic (April 19, 2015).

More on antibiotics is on my page Biotechnology in the News (BITN) -- Other topics under Antibiotics. It includes a list of Musings posts on various aspects of antibiotics, including sources and resistance.
---

March 4, 2015
---

Can eating peanut protein reduce the incidence of peanut allergy?
March 3, 2015
Peanut allergy is an increasingly important problem. Official recommendations about how to deal with the situation have varied over time; frankly, our understanding of what is behind the increase in peanut allergy is low.
A new article reports a clinical trial aimed at reducing the incidence of peanut allergy. The results are so strong that many feel this article will impact the thinking of the medical community almost immediately, even before confirming studies are done.
What the scientists did in this trial was to take a group of infants who were considered at high risk for developing peanut allergy: they had already developed other allergy problems. They divided that group into two treatment groups. One treatment group was asked (via their caregivers) to not consume peanut products. The other treatment group was asked to consume peanut products -- a specified amount of specified peanut food on a specified schedule. Over time, the scientists tested the children to see if they had developed an allergy to peanut.
Here is a summary of the key results...

Summarizing... Consumption of peanut products by infants appears to decrease the chance of developing peanut allergy. And remember, the trial was done with infants deemed at high risk, because of other allergy problems.
The result goes against at least some of prevailing wisdom, though the evidence supporting avoidance has generally been meager.
If this is of immediate practical interest to you, what should you do? Remember the usual Musings disclaimer: we do not give medical advice. That is partly because of the way we tend to focus on one result. The proper advice, as always, is to consult your medical professional.

News story: Peanut consumption in infancy prevents peanut allergy, study finds. (Science Daily, February 24, 2015.) This story notes how the study got started. An anecdote is not a conclusion, but it can guide forming a good controlled study.
* Editorial accompanying the article: Preventing Peanut Allergy through Early Consumption -- Ready for Prime Time? (R S Gruchalla & H A Sampson, New England Journal of Medicine 372:875, February 26, 2015.)
* The article, which may be freely available: Randomized Trial of Peanut Consumption in Infants at Risk for Peanut Allergy. (G Du Toit et al, New England Journal of Medicine 372:803, February 26, 2015.) Interesting picture at the very end; it wasn't there in the preprint.
Other comments...

One type of question that is open is the long term consequences of the treatment. Does resistance to allergy development continue? Does it depend on continued peanut consumption?

The suggested treatment here is for preventing the development of peanut allergy. Don't mix this up with using peanut protein to treat peanut allergy.

Since we have referred to this as a clinical trial of a medical treatment, we should note that it was not double-blind. The children -- or at least their caregivers -- knew which group they were in. However, the doctors doing the evaluations did not know.

A reminder that infants should not eat whole peanuts, or other chunky food.

I don't see any previous Musings posts about the development of specific allergies. However, we should remind you that many things affect the immune system, including your microbiome and your genes. Here are examples of posts about such effects...
* Why vaccine effectiveness may vary: role of gut microbiome? (February 27, 2015).
* Bach and the immune system (August 26, 2013).

A post about news coverage of scientific articles: Media hype about scientific articles: Who is responsible? (March 9, 2015).

The only previous post that mentions peanuts: Rendezvous with Lutetia (August 14, 2010).

Another food allergy: Carrot allergy (October 25, 2020).
---
---

Why vaccine effectiveness may vary: role of gut microbiome?
February 27, 2015
A recent article shows that the gut microbiome contributes to the response to a vaccine. This is another example of how interconnected our body systems are, and another reminder that the microbiome is one of those systems.
The following figure shows an example of the results. The work here is with mice, but there should be no doubt that effects are likely in humans, too.

In summary, the figure shows that the response to the vaccine depends on the gut microbiome -- and on the immune system sensing that gut microbiome. That is, the work makes a connection between the microbiome and the immune system. That there is such a connection is becoming increasingly clear, but we are just beginning to see its implications.
Further work in the article showed that the effect was significant for some vaccines, but not for others. A clue is that the effect was small for vaccines that included an adjuvant: an additional substance in the vaccine that serves to alert the immune system. It seems, then, that the adjuvant is bypassing the need for the TLR5-dependent response.
A limitation of the work... It shows a connection -- a strong connection -- between the gut microbiome and the vaccine response. But this was done mostly with the microbiota all-or-nothing. A good next question might be: what is the effect of variation of gut microbiota -- both normal and pathological variation -- on the response?
A practical implication of the work, even at this level, is that a person's response to a vaccine may be affected if they are undergoing antibiotic treatment. The authors also raise the question of whether varying effectiveness of the same vaccine in different parts of the world might be due, in part, to local variations in the common gut microbiome.

News story: Intestinal bacteria needed for strong flu vaccine responses in mice. (Medical Xpress, September 11, 2014.)
The article: TLR5-Mediated Sensing of Gut Microbiota Is Necessary for Antibody Responses to Seasonal Influenza Vaccination. (J Z Oh et al, Immunity 41:478, September 18, 2014.) Check Google Scholar for a copy.
The following two posts deal with how people respond differently to either the vaccine or to a flu infection.
* Who gets sick from the flu? (September 20, 2011).
* Predicting vaccine responses (August 22, 2011). From the same lab; in fact, the current article is a follow-up to this earlier work.

Another post that connects vaccine response to a TLR (a different one) that senses bacteria. Does it matter what time of day you get a vaccine? (October 26, 2012).

Added March 27, 2023. More on vaccine responses... Sleep deprivation and vaccine effectiveness (March 27, 2023).

Posts on flu and flu vaccines are listed on the page Musings: Influenza (Swine flu).

More on vaccines is on my page Biotechnology in the News (BITN) -- Other topics under Vaccines (general).

More about TLR5: Obesity, gut bacteria, and the immune system (May 24, 2010).

More about the innate immune system: How rice recognizes a Xoo infection (August 28, 2015).

A recent post on the gut microbiome: Fecal transplantation as a treatment for Clostridium difficile: progress towards a biochemical explanation (February 8, 2015).

More about immune responses... Can eating peanut protein reduce the incidence of peanut allergy? (March 3, 2015).
---

February 25, 2015
---

Expansion microscopy: making an object bigger can make it easier to see
February 23, 2015
Microscopes and telescopes allow us to see things that we could not ordinarily see. However, they have limitations -- and those limitations do limit our knowledge. It's not surprising that we look for ways to make better microscopes and telescopes.
But some of those limitations are fundamental. For example, the laws of optics limit ordinary light microscopes to a resolution of about 200 nanometers (half the wavelength of the light used). There are instruments that get better resolution by using other methods; they are not ordinary image-forming light microscopes. The electron microscope uses electrons rather than visible light; the electrons have a much shorter wavelength, and the electron microscope allows a correspondingly better resolution. A whole suite of new light microscopy methods bypassing ordinary image formation was recognized by last year's Nobel chemistry prize. These are all wonderful developments, but they have their own limitations, and they are expensive.
A recent article offers a new approach to overcoming the common resolution limit of light microscopy. It's clever, and relatively simple.
Here is an example...

The above figure shows that if you make an object bigger before taking its picture, it is easier to see. The authors call their method expansion microscopy.
How do they expand the object? Well, it's just like how diapers expand when they get wet. The diapers contain an absorbent material that expands when it gets wet. So does the sample in frame E above. The scientists effectively put the absorbent material inside the sample. What they actually did was to infuse the subunits of the material into the sample; the subunits then reacted (polymerized) to form the absorbent material inside the sample. Once formed, the absorbent material absorbed water and expanded, making the object larger. It really is larger -- about four-fold larger, as seen above.
What kind of absorbent material did they use? The same stuff used in commercial disposable diapers. It is a type of acrylic polymer. It carries charges, which attract water, leading to swelling.
That's the idea. It's simple and inexpensive, and it seems to work. We know little about its limitations at this point, and there certainly are questions about it. A simple limitation is that it wouldn't apply to a material if we couldn't get this expanding material inside. But even if we get it inside, the method assumes that the expansion is uniform -- that there is no distortion of the sample upon expansion. The scientists spend some time on this issue. The method includes special preservation of selected structures. It is not clear how general the method may be.
Expansion microscopy is an intriguing development. We'll learn more about what it can and can't do with further work.

News story: Expanding the brain achieves super-resolution with ordinary confocal microscopes. (Kurzweil, January 16, 2015.)
* News story accompanying the article: Microscopy: The superresolved brain. (H-U Dodt, Science 347:474, January 30, 2015.)
* The article: Expansion microscopy. (F Chen et al, Science 347:543, January 30, 2015.) Check Google Scholar for a freely available pdf of a preprint.
From the Nobel prize site: 'The Nobel Prize in Chemistry 2014 was awarded jointly to Eric Betzig, Stefan W. Hell and William E. Moerner "for the development of super-resolved fluorescence microscopy".'

A recent Musings post about developments in microscopy: A ream of microscopes for $300? (June 22, 2014). It's a good reminder of the basic simplicity of light microscopy.

More...
* Super-resolution microscopy -- without special labels (May 15, 2022).
* How a spider can help you do better microscopy (September 9, 2016).

Also see a section of my page Internet resources: Biology - Miscellaneous on Microscopy.

More about high resolution distance measurements... Can the naked human eye measure distance to nanometer accuracy? (July 20, 2015).
---
---

More on photosynthetic sea slugs
February 20, 2015
The sea slug Elysia chlorotica is green -- and photosynthetic. It's green because it maintains functional chloroplasts. It eats algae, but sometimes saves the chloroplasts rather than digesting them. There is controversy about the nature of the system. One interesting claim is that the animal has incorporated algal genes into its own genome. Although each animal must acquire its own chloroplasts, the presence of algal genes in the animal helps to maintain the system. We have noted the sea slug-chloroplast system in earlier posts, including one that questions some of the basic findings [links at the end].
One of the concerns is that some labs have been unable to find evidence that the algal genes claimed to be part of the sea slug genome are actually there. A new article provides evidence that one of those genes is indeed found in the sea slug genome.
Here is the evidence...

That's the evidence that the sea slug genome contains that particular algal gene. (The figure above does not show the complete sea slug chromosome set. The authors note that the only place where they have seen the probe bind is at that one location on that small chromosome.)
Does this solve the problem? Not really. It is one piece of evidence. It is conceivable that the probe is binding something other than the intended algal gene. If the gene is present, why haven't sequencing efforts found it? (They probably are incomplete.) What about the other algal genes that are claimed to be in the slug genome? Noting these concerns is not a criticism of the new work; it's just a statement of its limitations. The scientists have done many good control experiments, which are clearly described in the article. However, one article can not do everything.
At this point, we have some positive results and some negative results, and no explanation for the discrepancy. This result may be a useful step. The system is intriguing, and worth studying further.

News story: Sea slug has taken genes from algae it eats, allowing it to photosynthesize like a plant. (Science Daily, February 3, 2015.) Features a nice picture of the animal -- if you can find it.
The article: FISH Labeling Reveals a Horizontally Transferred Algal (Vaucheria litorea) Nuclear Gene on a Sea Slug (Elysia chlorotica) Chromosome. (J A Schwartz et al, Biological Bulletin 227:300, December 2014.) Check Google Scholar for a copy. A quite readable paper.
Background posts on the sea slugs (oldest first):
* COOL AS HELL! Sea slug that runs on solar power (Really) (November 30, 2008). Links to other posts on photosynthetic animals.
* A challenge to the story of photosynthetic sea slugs (January 7, 2014). This post deals with a challenge to the importance of the photosynthesis to the sea slug animal.
* Photosynthetic sea slugs; species vary (June 9, 2015).

Aside from the fascination with the immediate biological issue here, one reason for interest in this story is that it would seem to represent an example of horizontal gene transfer (HGT) in higher (multicellular) organisms. For more...
* A case of horizontal gene transfer from plant to insect; exploiting it for insect control (April 18, 2021).
* Who's been genetically engineering the sweet potatoes? (June 28, 2015).
* Lesbian necrophiliacs (March 8, 2010).

Also see...
* Are yeasts important partners in lichens? (September 12, 2016).
* Origin of eukaryotic cells: a new hypothesis (February 24, 2015).
---

February 18, 2015
---

Small numbers to the left? Chickens may agree
February 17, 2015
We tend to arrange numbers from smaller on the left to larger on the right. It is apparently instinctive in humans. It is as if we have some biologically ingrained sense of number line that goes from left to right.
A new article suggests that baby chickens do, too. It's an intriguing article.
Here is an example of how the scientists tested the chicks for their sense of number line...
The authors interpret these test results as follows... In B, the chick sees two panels with a smaller number of dots than were in the training panel. Therefore it goes to the left -- because 8 is less than 20. In C, the chick sees two panels with a larger number of dots than were in the training panel. Therefore it goes to the right -- because 32 is more than 20. That is, the response of the chick is based on comparing the current situation to the training situation.
Note that there are at least two steps, according to this interpretation. First, the chick is making a numerical comparison. Second, it is responding to that comparison in a certain way.
The figure above shows the results of single tests. The scientists accumulated considerable data for such tests. The summary of those data is quite interesting; it is shown in the following figure.
We should note one more feature of the results. Look at the tests for "8 vs 8", which was included in each experiment. They gave different results depending on the target. If 8 was more than the target (experiment 1), the chicks went to the right; if 8 was less than the target (experiments 2 and 3), the chicks went to the left. This set of results is consistent with the interpretation that the chicks were comparing the test panels with the training target.
What do we make of this? I must say I am quite impressed by two things here. First, the test is quite clever. Second, the results seem to show clear effects. The question must be, what does this all mean? The authors offer an interpretation. Fair enough, but it may or may not be the correct interpretation.
If chicks and humans do share a feature relating to the number line, it opens the question of why. There are many possible reasons. For example, it might reflect some important feature of brain organization that is conserved in all vertebrates, or it might be a coincidence. I think it is premature to worry much about this for now. I think we can appreciate the quality of the work here, and yet realize that the significance is open.

News stories:
* Like Humans, Chicks Count Left to Right -- The findings suggest that the direction of the mental number line may have deep biological roots. (AAAS, January 30, 2015.)
* In the mind's eye of a bird brain. (Why Files, January 29, 2015.)
* News story accompanying the article: Animal behavior: Chicks with a number sense -- Chicks and humans map numbers to space in a similar way. (P Brugger, Science 347:477, January 30, 2015.)
* The article: Number-space mapping in the newborn chick resembles humans' mental number line. (R Rugani et al, Science 347:534, January 30, 2015.)
The idea of a mental number line has come from work with humans. An interesting question is whether it holds for those who use a written script that goes from right to left. Apparently, those who read Arabic think of numbers going from right to left. One possibility is that there is an innate number line, but that it can be overridden. This all needs further work.

More about chicks doing math -- from the same lab: Animals counting -- more (July 13, 2009).

More about chickens: Can chickens prevent malaria? (August 12, 2016).

More animal math:
* Added January 3, 2023. Do bees count left-to-right? (January 3, 2023).
* Monkey math (June 1, 2014).

Added January 3, 2023. There is more about math on my page Internet resources: Miscellaneous in the section Mathematics; statistics. It includes a listing of related Musings posts.
---
---

Boston is leaking
February 13, 2015
Yes, Boston is leaking. It's leaking enough to be the focus of attention in a new article in the prestigious scientific journal Proceedings of the National Academy of Sciences.
Leaking methane.
In a sense, that's not news. We might expect some methane leakage from any area using natural gas. What's news is that the rate of methane leakage in the Boston area is 2-3 times the previous official estimate.
What the scientists did was straightforward. They set up sensors in various places, and recorded what they found. They then took the data and integrated them into a mathematical model, to get an estimate of the overall emissions.
There are many potential sources for methane. Distinguishing them can be difficult -- yet is important for understanding the methane story. In this work, the scientists measured ethane as well as methane. (Methane is CH4; ethane is the related compound C2H6.) Natural gas, which is made by chemical processes deep within the Earth, contains substantial amounts of ethane along with the methane. Methane produced by biological processes, such as by the microbes in cows or wetlands, has no ethane. Measuring both methane and ethane helps them to separate the contributions of natural gas and bio-gas.
Perhaps this is a good news - bad news story. It's certainly bad news to learn that the methane emissions are higher than we had thought. But the good news is that we actually know now -- or at least know more than we did.
Methane is an important greenhouse gas; understanding the various ways it gets to the atmosphere is important. Recognizing which sources are most important is a step toward reducing methane emissions. There is a self-interest economic incentive to reduce losses of natural gas in the distribution system. Further, reducing such losses should result in increased safety of the system. Whether those incentives are large enough to result in action is questionable. It may well be that the collective action of the public, through the political system, is needed to promote reductions in greenhouse gas emissions. But doing that comes with a responsibility to get it right.

News stories:
* Methane Leaks From Gas Pipelines Far Exceed Official Estimates, Harvard Study Finds. (Inside Climate News, January 28, 2015.)
* Leaks in Boston area gas pipes exceed estimates. (Boston Globe, January 22, 2015.) I thought it would be nice to include a good news story from the relevant local newspaper, but there seems to be some access limitation. If you can't access this, don't worry about it.
The article, which is freely available: Methane emissions from natural gas infrastructure and use in the urban region of Boston, Massachusetts. (K McKain et al, PNAS 112:1941, February 17, 2015.)
There are background posts on methane emissions. They cover a range of sources of methane, both "natural" and manmade. Some of the posts deal with attempts to analyze the scope of methane emissions. Methane posts include:
* Space-based observation of atmospheric methane -- and the Four Corners methane hotspot (December 29, 2014).
* Quality of oil and gas wells -- fracking and conventional (August 18, 2014).
* Methane leaks -- relevance to use of natural gas as a fuel (April 7, 2014).
* Svalbard is leaking (March 7, 2014).

And newer posts... Los Angeles leaked -- big time! (April 29, 2016).

More about CH4 and climate change: Climate change: Should we focus on methane? (March 24, 2012).

and... How rice leads to global warming, and what we might do about it (September 2, 2015).

There is more about energy issues on my page Internet Resources for Organic and Biochemistry under Energy resources. It includes a list of some related Musings posts.

More about Boston:
* Is Arctic warming leading to colder winters in the eastern United States? (May 11, 2018).
* Traffic congestion patterns analyzed from cell phone records (July 7, 2013).
* See cat run (March 14, 2012).
---

February 11, 2015
---

The largest -- and most distant -- planetary ring system
February 9, 2015
Shall we show the real thing? or the pretty picture?

No one has ever seen this ring system. No one has ever seen the planet J1407b. The picture above is an "artist's conception".
An artist's conception, but based on real data, as reported in a new article. Here are the data that led to that picture...

This is a nice article, on several counts. It leads to the beautiful picture shown above, but there is quite a story behind that picture.
The basic methodology is measuring the light intensity from a source, and making inferences about what is causing the fluctuations. The Kepler hunt for extrasolar planets uses this method. The light curve, shown above, is incredibly complex. It's a significant mathematical process to deduce that it might be caused by the ring system shown. The scientists have shown the best result they could fit to the data at hand, but they caution that the result is not unique. As you can see, there are substantial gaps in the data set, as well as uncertainties in the measurements. The model should be taken as tentative, pending further observations. It is possible that it is substantially wrong. Remember, neither the rings nor the planet have been directly seen.
The analysis leads to what is, for now, the largest and most distant known ring system. It even leads to the inference of at least one small moon embedded in the ring system, creating the observed gap. It's a good story. Let's see what follows from it.

News story: Gigantic ring system around J1407b much larger, heavier than Saturn's. (University of Rochester, January 26, 2015.) From one of the institutions involved.
The article: Modeling Giant Extrasolar Ring Systems In Eclipse And The Case Of J1407b: Sculpting By Exomoons? (M A Kenworthy & E E Mamajek, Astrophysical Journal 800:126, February 20, 2015.) A preprint of the accepted article is freely available at ArXiv. A quite readable article, though you may want to skip some of the more technical parts.
Another example of rings being inferred from a transit: Rings for Chariklo (May 9, 2014). Compare the complexity of the light intensity data in this post with that shown above.

Rings that really have been seen: Venus: an unusual view (March 18, 2013).

A post about the Kepler telescope, and its search for planets by looking for transits... A new trick for the Kepler planet-hunters (June 25, 2012).
---
---

Why are some types of cancer more common than others?
February 6, 2015
A new article offers some insight into the origins of cancers. The article has attracted considerable news attention and has provoked controversy. This comes from the complexity of the article, which has resulted in claims that were not intended. Let's see if we can sort some of this out.
We should start with a very broad perspective. There are many kinds of cancers. Lung cancer is a different disease than pancreatic cancer. In fact, there are multiple kinds of lung cancers. Cancers, in general, may be due to many things. For example, they may be due to natural accumulation of errors (mutations) during a normal lifetime, and they may be influenced by external factors, such as ultraviolet light or tobacco smoke. The genetic makeup of each individual affects how each of those possible processes plays out. The point, for the moment, is not to weigh the relative importance of those causes, but to lay out the possibilities.
The following figure summarizes the main findings of the new article. It is also the basis of much of the controversy.
The figure shows a relationship between the frequency of cancer of a particular type (y-axis) and the number of cell divisions in the relevant stem cell population (x-axis). You can see that there is a general trend: more stem cell divisions correlates with a greater lifetime risk of getting that particular cancer type. It's a log-log graph, covering several powers of ten on each axis. The explanation is that the more stem cell divisions there are, the more chance there is for mutations to accumulate.
One can draw a straight line through that data set, to give an idea of the relationship. Analysis of that best-fit curve gives a correlation coefficient, r, of about 0.8. That gives r2 = 0.64, which is about 2/3. The interpretation of the r2 value is complex -- especially since the graph is log-log. (It would have been nice if they had shown the line.)
Some news coverage has suggested that the r2 value means 2/3 of cancers arise from the random mutations inferred from the graph; that is simply incorrect.
What it means is something like this... Some kinds of cancers are more common than others. One reason some kinds are more common is that the stem cells that give rise to them divide more often, and thus have more chance to accumulate mutations. Overall, the graph suggests this is a major contributor to why some kinds of cancer are more common. The r2 value applies here. We might say, loosely, that 2/3 of the reason why one cancer is more common than another is due to the number of stem cell divisions (ignoring the log issue). The actual number of cancers depends on this and other things.
It's a plausible trend. Cancer is caused, at least in part, by mutations. The more cell divisions there are, the more chance for mutations to accumulate. The chance of cancer thus increases with cell divisions -- especially the relevant stem cell divisions. It is greater with age, and it is greater in tissues with more stem cell divisions. If there are more stem cell divisions, there are more steps where an environmental or genetic effect might act.

The authors do another analysis. A simple view is that they look to see which cancers are above the line and which are below it. The actual analysis is more complex than that, but that is the general idea. This leads to a new score, called the adjusted extra risk score (aERS) for each type of cancer. It measures how far each cancer type is from the trend line.
The following graph displays those aERS scores, in order from smallest to largest. (A score of zero would mean that the cancer falls right on the trend line.)
To get the idea of what the figure shows... The highest aERS score in this figure, at the extreme right, is for FAP colorectal cancer. Look at the first figure, and you will see that this cancer is well above the trend line. On the other hand, pancreatic islet cancer, at the extreme left with the lowest aERS score, is below the trend line.
The authors suggest that cancers with high aERS scores are likely to have other factors contributing substantially, beyond the stem cell division effect. That is the "extra risk" part of aERS. They note certain cases where that prediction seems to be correct. Colon cancer is one, where the extra risk factors are well known. Also note that there are two points for lung cancer on the graphs. One is for smokers, one for non-smokers. The lifetime risk of lung cancer for smokers is much higher due to the extra risk factor.
Other predictions are not correct. For example, they predict that melanoma would have small extra effects; it is at -1.62 on the figure above. However, it is known that melanoma is greatly affected by the environment (sunlight).
So what's the message? Well, it's mixed. There may be various reasons for the discrepancies, including that some of the available data are not very good. The analysis of this figure seems to be a good idea, but imperfect at this point.

The article is complex. That should not be a surprise. It deals with the broad topic of the causes of cancer, and it is quite mathematical in approach. It does not lend itself to simple summary. I think the article is a useful contribution, in helping us see how many factors contribute, and how types of cancer vary. But be cautious about the details.

News stories:
* 'Bad luck' of random mutations plays predominant role in cancer, study shows. (Science Daily, January 1, 2015.)
* Two-thirds of adult cancers largely 'down to bad luck' rather than genes. (Guardian, January 2, 2015.) A newspaper story, from a newspaper that tends to do a good job of reporting science. But this story is a mix: some good description of what the article reports, plus considerable misinterpretation of what it means. The title is an example of the latter.
* Bad Luck of Random Mutations Plays Predominant Role in Cancer, Study Shows -- Statistical modeling links cancer risk with number of stem cell divisions. (Johns Hopkins University, January 1, 2015, with an Addendum January 7, 2015.) From the institution where the work was done. It's interesting that they have responded to the controversy surrounding the article with the addendum, which is at the top of the page.
There are two news stories in the journal that published the article. One accompanied the article, as usual. The second was a follow-up, by the same reporter, two weeks later.
* News story accompanying the article: Biomedicine: The bad luck of cancer. (J Couzin-Frankel, Science 347:12, January 2, 2015.)
* News story follow-up: Science Communication: Backlash greets 'bad luck' cancer study and coverage -- How subtleties got lost in the telling. (J Couzin-Frankel, Science 347:224, January 16, 2015.) Kudos to Jennifer Couzin-Frankel for publishing this follow-up story. She reflects on the problems with the initial news coverage, including her own, and offers some insight into how it happened. I would like to emphasize... This is a story of the difficulties of good science communication, a problem I struggle with constantly in doing these posts. Let's not play blame-game. For the reader, I think the message is to be cautious about what you read, no matter the source.
* The article: Variation in cancer risk among tissues can be explained by the number of stem cell divisions. (C Tomasetti & B Vogelstein, Science 347:78, January 2, 2015.) Check Google Scholar for a copy.
Follow-up: Why are some types of cancer more common than others? Follow-up (January 24, 2016).

A post about news coverage of scientific articles: Media hype about scientific articles: Who is responsible? (March 9, 2015).

Also see:
* Why do elephants have a low incidence of cancer? (March 20, 2016).
* The role of combinations of chemicals in causing cancer? (September 21, 2015).

My page for Biotechnology in the News (BITN) -- Other topics includes a section on Cancer. It includes a list of some other Musings posts on cancer.
---

February 4, 2015
---

Blood thinning: a new approach
February 2, 2015
Blood clotting is essential to recovery from bleeding, but blood clots can be dangerous, if they block blood flow. Thinning the blood -- making it harder to clot -- may be a medical necessity, but it is a delicate matter; excessive thinning can promote bleeding.
A recent article offers a new approach to thinning the blood, one that the authors argue may have a better ratio of benefit to harm. The specific context of interest is treatment for a heart attack.
The following chart shows the idea. It's complex, but following even part of it will help you see why the proposed method is worth considering. We'll walk through key parts of it below.
Let's look at some parts of this. The left-hand column, labeled Metabolites, lists four chemicals, all of which are normal biochemicals. At the top is adenosine triphosphate, or ATP; it has three phosphate groups. These are removed one at a time as we go down; the final chemical is adenosine, labeled ADO, with no phosphates left. The "e" in front of various chemical names means extracellular; we are dealing here with ATP free in the blood, not the ATP doing its normal job inside the cells.
Two enzymes are needed to convert ATP (top) to ADO (bottom). One is apyrase, the subject of the study; it carries out the first two steps. The final step is done by another enzyme, which is ubiquitous. The enzymes are shown alongside the arrows from one chemical to the next.
Briefly, the new proposal is to treat with the enzyme apyrase, to convert metabolites near the top of the column to those near the bottom.
Why might that be useful? Because, at least in this context, the ones near the top are harmful and the ones near the bottom are good. That's what the rest of the chart is about.
Look to the right of ATP. The chart shows, at various levels of detail, that ATP is proinflammatory. The ATP row branches into the ADP row; both are prothrombotic -- meaning that they promote clotting. In contrast, the ADO row shows that it is anti-inflammatory and antithrombotic. So, if there is too much clotting, the enzyme apyrase, converting ATP to ADO, could be good.
The chart also shows an example of a drug currently used to reduce clotting. It's called clopidogrel, and is shown just below the ADP row. It inhibits one step on this chart, as shown by the red X.
That's the idea. Does it work? The article reports some results that are encouraging. Apyrase is a normal enzyme in the body. The scientists developed a modified version of the enzyme, more suitable for use as an added drug. They treated dogs that had an experimentally-induced heart attack. The apyrase treatment helped minimize damage following the heart attack. We'll leave the details for now, having spent considerable time on the idea. But the authors conclude that the apyrase treatment is worthy of further work. Trials in humans are imminent.

News story: Experimental heart attack drug reduces tissue damage, minimizes bleeding risk. (Washington University of St. Louis, August 12, 2014.) From the lead institution.
The article: Optimizing human apyrase to treat arterial thrombosis and limit reperfusion injury without increasing bleeding risk. (D Moeckel et al, Science Translational Medicine 6:248ra105, August 6, 2014.)
More about another role of adenosine, ATP, and such: How acupuncture works: another clue (September 2, 2010). Includes the chemical structures of ATP and adenosine.

More about blood clotting:
* Mechanism of blood clotting: how the von Willebrand factor works (May 18, 2021).
* Gene therapy: Could we now treat Queen Victoria's sons? The FIX Fix. (January 6, 2012).

Also see: Can we pinpoint a specific molecular explanation for tissue damage following a heart attack? (March 24, 2015).
---
---

What can we learn from reading (the DNA from) old parchments?
January 30, 2015
Before the ready availability of paper, parchment was used for writing. Parchment is made from animal skins.
A new article reports analyzing DNA extracted from old parchments, and identifying the type of animal from which the parchments were made.
The following figure summarizes some results from analyzing the DNA from old parchments.

That's about as far as this work goes. It introduces technical improvements that should make it easier to isolate and identify DNA from old parchments. The article also contains some work on collagen from the parchments; it, too, can be identified as being from sheep.
Parchment is durable; samples from at least the last millennium are common. Parchments were often used for important documents, which have been carefully stored over the ages; these documents are often well dated. Therefore, many old parchments of known age are available, and it is reasonable they can be analyzed. The authors suggest that doing this could be a window onto agricultural practices over many centuries, but any such application to a more specific scientific question remains for future work.

News story: Scientists reveal parchment's hidden stories. (Science Daily, December 7, 2014.)
The article, which is freely available: Paging through history: parchment as a reservoir of ancient DNA for next generation sequencing. (M D Teasdale et al, Philosophical Transactions of the Royal Society B 370:20130379, January 19, 2015.) Part of a feature issue on ancient DNA; sections include: Ancient human populations; Human evolution and ancient diseases; Animal and crop domestication; Ancient genomics; Environmental DNA.
There are no previous posts about parchment, but the following may be related.
* Stanford Linear Accelerator recovers 18th century musical score (June 22, 2013).
* Playing music can make you sick (July 31, 2010).

Other posts about sheep include:
* Lamb-in-a-bag (July 14, 2017).
* The good and bad of the immune system -- a sheep story (January 21, 2011).
* Do robots dream of electric sheep? (April 10, 2009).

There is more about genome analysis on my Biotechnology in the News (BITN) page DNA and the genome. It includes an extensive list of Musings posts on sequencing and genomes.
---

January 28, 2015
---

Is it possible that asteroids helped provide the energy needed to get life started on Earth?
January 26, 2015
About four billion years ago, the Earth was subjected to a period of unusually heavy bombardment by solar system bodies such as asteroids and comets. It is plausible that this bombardment, commonly known as the Late Heavy Bombardment, brought us much of our water. It may also have brought some of the chemicals needed to make life. Or perhaps it helped to create the conditions necessary to make those chemicals.
A new article offers some intriguing chemistry that is relevant to that last point. Let's look first at what the scientists did; then, we can enter into the speculation about how it might have been relevant to how life started on Earth.

The following table shows some results. It shows the production of four nucleobases under various experimental conditions. These nucleobases are the four bases commonly found in modern RNA: A, G, C and U. (T, closely related to U, is also a nucleobase.)

What did they do? They started by using a simple chemical called formamide. This is listed in the table as HCONH2; its structure is shown below. It is widely believed that formamide was abundant on the early Earth. Further, it has been shown that various treatments of formamide can lead to one or another of the RNA bases. What's new here is showing that, under certain conditions, they could get all four of the RNA bases in a single run. How did they do this? They irradiated the formamide with a powerful laser.
This strengthens the case that formamide might have played a key role in prebiotic chemistry: the chemistry that led to life. Formamide was around; just shine a laser on it, and you'll get all the bases needed for RNA -- in one pot.
That laser? Well, maybe we could find a substitute. The purpose of the laser was to provide energy. An asteroid might do. An asteroid collision with the Earth. And remember, this was a time of unusually heavy bombardment. The authors have done some calculations. They chose their laser to simulate what they estimate to be the energy of a typical asteroid collision of the day. That is, it may have been that an asteroid collision helped promote the origin of life by providing the energy needed to make the nucleobases.
There is nothing in any of this that says what actually happened four billion years ago. What this work does, as so often with origin-of-life research, is to give us an example of what might have happened. In any case, it is interesting chemistry.

What about that last row of results; the DAMN experiment? The scientists spent much time working out the details of how the four bases were made from formamide. In fact, the article contains two large figures of chemical pathways. Their work suggested that a key chemical along the way was one abbreviated DAMN (and shown below). So they tried one run with DAMN, instead of formamide. You can see that it worked well.

News stories:
* Asteroid impacts may have formed life's building blocks. (Science, December 8, 2014.)
* How did life get started on Earth? (The Naked Scientists, December 8, 2014.)
The article: High-energy chemistry of formamide: A unified mechanism of nucleobase formation. (M Ferus et al, PNAS 112:657, January 20, 2015.)
---
---

Are bankers fundamentally dishonest?
January 23, 2015
Perhaps not, according to a new article. Perhaps they are dishonest only when they think about being bankers.
It's fascinating that a team of scientists has put the question to an experimental test. What they did was very clever.
Here is the idea... You are asked to flip a coin some number of times. You are told that if you get a certain result you will get some money (say, $20). You flip the coin, and report what you got. You get paid based on the results you report. Would you cheat, so you could get more money? Would bankers cheat? If we wanted to test that, what would be the control? Of course, one control is the statistical expectation, that you should get 50% "heads". But maybe everyone cheats. So let's test bankers versus some other group. Maybe, but there are many differences between such groups; it would be hard to know what the results mean.
That's where the scientists got clever. They tested one group of bankers versus another group of bankers. The difference was that one group of bankers was made conscious of being bankers during the testing, whereas the other group was not. How did they do that? They got together a large number of bankers (bank employees), and divided them into two groups. Both groups filled out a little informational questionnaire before they did the test; that's normal enough. But that questionnaire for one group included questions about what they did as bankers, whereas the questionnaire for the other group did not.
The following figure shows some of the results.

Summarizing... the results of a controlled experimental test show that bankers will cheat to make money -- if they are conscious of being bankers.
The scientists did such tests with people from other professions. In each case, they tested "controls" versus a group that had been primed to remind them of their professional identity. The cheating was found only for the bankers -- only for the bankers who had been reminded of their professional identity.
What should we make of this? Let's treat it as a scientific article. The researchers asked a well-defined question. They realized there were difficulties in defining the experimental conditions, and they spent considerable effort dealing with this. What they did is clever. It's fun to read how they designed the experiments. On the other hand, a single experiment isn't always right. Maybe they did not fully define the experimental conditions right. Maybe there are hidden variables or biases. One key test, as with any science: Can others reproduce what they did? Can others improve the experiment? I suggest we take this as an interesting scientific step, but let's be cautious about accepting the conclusion, pending further work. That's science.

News stories:
* Business culture in banking industry favors dishonest behavior. (Science Daily, November 19, 2014.)
* Coining it in: banking industry culture promotes dishonesty, research finds -- Academic study testing bankers' reports of coin tosses to gain winnings revealed cheating not found in tests of other sectors. (Guardian, November 19, 2014.) Beware the author's sharp tongue; still, this is a good overview of the work.
* News story accompanying the article: Behavioural economics: Professional identity can increase dishonesty. (M C Villeval, Nature 516:48, December 4, 2014.)
* The article: Business culture and dishonesty in the banking industry. (A Cohn et al, Nature 516:86, December 4, 2014.) Check Google Scholar for an available preprint.
For those willing to dig deeper into the article... There is interesting discussion of the banking culture, and of what we might do about it.

More about banking... Can you feed a man for life by giving him a fish? A story of microfinance (March 23, 2012).

More about cheating:
* Baseball physics (July 31, 2011).
* A plant that cheats (July 6, 2009).
---

January 21, 2015
---

Jamming of bat sonar, by bats
January 20, 2015
Bats use echolocation, or sonar, to find things, including their food. They emit a sound; if it bounces back, they have found something.
Is it possible that one bat would interfere with the sonar of another bat? A recent article reports an experimental test of this possibility.

The evidence thus shows that bats can jam the signal of another bat. The jamming signal is sent only when the jamming bat detects a bat very close to homing in on a meal. Does this mean that the jamming bat then gets the meal? That's certainly the implication. Observation of the bats in the field suggests this is correct. However, the scientists have only limited evidence on that point. If the jamming bat doesn't get the meal, what is the "purpose"?

News stories:
* Bats Make Calls to Jam Rivals' Sonar -- First Time Ever Found. (Carrie Arnold, National Geographic, November 6, 2014.) Now archived.
* Hungry bats compete for prey by jamming sonar. (Science Daily, November 6, 2014.)
The article: Bats jamming bats: Food competition through sonar interference. (A J Corcoran & W E Conner, Science 346:745, November 7, 2014.)
Movies. There are four movies posted with the article at the journal web site, as Supplementary Materials. Most useful, perhaps, are movies S2 and S3 (15-20 seconds each, with sound). Both show a bat trying to catch a moth. In one case, the jamming comes at the right time so that the bat misses. In the other, the jamming is too early; the bat catches it prey. You may need to play these more than once to understand them. Read the descriptions on the page of Supplementary Materials.
---
---

Can we make sense of the many genes involved in autism?
January 16, 2015
Our first understanding of the genetics of human disease came from simple cases. For example, the disease sickle cell anemia is caused by a mutation in one specific gene, that for the beta chain of hemoglobin. There is a clear, direct connection between the genetics and the disease. (We should caution that we still do not completely understand how this "simple" disease works.)
However, such simple relationships are not "the rule". Autism is an example. We know it is a complex disease; we even refer to the range of autism-type diseases as autism spectrum disorder (ASD). And over 300 genes have been implicated as contributing to ASD.
Is there hope of making sense of autism? of the genetic basis for ASD? Perhaps we need to step back and take a novel view of what a human looks like.
The following figure is from a new article analyzing autism. It shows (part of) what a human being looks like -- to a computer scientist. It's a complicated figure, but it does offer some hope.

That figure shows our hope of understanding the genetic basis of autism. Let's see if we can make some sense of the figure.
Let's work backwards, starting with the bottom line. Mod 13 is highly enriched for genes associated with autism. Each circle in the inset represents one gene; the gene name is shown. Each colored circle represents a gene that has been associated with ASD. (Ignore the little red dots; they are from the main figure, in the background on the inset.) There is a high percentage of colored circles in the inset. That's not necessarily obvious by looking at this alone, but is the point of the analysis. If you go back to the main figure, you'll see that #13, the boxed cluster, has a higher density of red dots in it than any of the nearby clusters.
So what are those clusters, which are the first step in the analysis? The scientists have grouped the human genes into clusters of interacting genes. Genes are in the same cluster if they interact with each other, as judged by various tests. One such test would be whether the proteins bind to each other, in a simple test in the lab. The lines in the inset show the protein-protein interactions that have been found. Further, they need to be expressed at the same time in the same place in the organism. (If two proteins bind to each other in the lab, but in the real world are not together, then the interaction has no obvious relevance.) Such grouping of genes by their interactions is an active field. It's still rather controversial, because people are still trying to figure out the proper criteria for identifying meaningful interactions. The result, such as the main figure here, is called the interactome, one of the developing plethora of "-omes" in modern biology (starting of course with the genome).
What we have done so far, then, is to group the genes into clusters that are functionally related. One of those clusters is enriched for genes relating to autism. What is the functional role of the genes in Mod 13? They are brain genes, and many are involved in the corpus callosum, the region that joins the two hemispheres of the brain. The clustering helps aim us to what the biology of autism may be. Further, it clues us into to other genes that may turn out to be related to autism.
You may object to some of those conclusions. We already knew that autism involved the brain, and likely involved the corpus callosum. True. In a sense, such findings are a validation, not a new discovery. That's fine. Validating the approach is good; it's still a very new approach. However, showing the genes connected by their interactions does increase our level of understanding. For example, with the information about clustering of known ASD-related genes at hand, the scientists found mutations in other genes of the cluster that also seem associated with ASD.
If you find all this overwhelming or confusing, that's ok. It's the nature of modern biology. We've noted this before with genome work: massive amounts of data, with computers sorting it out and providing some order. But we haven't turned biology over to the computers (or to the computer scientists). Parts of this article explore the biology of groups of genes that are highlighted above. That is, this article includes not only computer-generated figures such as the ones above, but images of brain slices. That is symbolic of the cooperation found -- and needed -- in modern biology between scientists with very diverse types of training.
Overall, this is a complex article that helps identify a group of functionally related genes involved in autism spectrum disorders. That's a useful step towards understanding a complex spectrum of conditions.

News story: Molecular network identified underlying autism spectrum disorders. (Science Daily, December 30, 2014.)
* News story accompanying the article; it is freely available: Autism cornered: network analyses reveal mechanisms of autism spectrum disorders. (C Auffray, Molecular Systems Biology 10:778, December 2014.)
* The article, which is freely available: Integrated systems analysis reveals a molecular network underlying autism spectrum disorders. (J Li et al, Molecular Systems Biology 10:774, December 2014.)
* Previous post on autism: Signs of autism in 2-month-old babies (February 7, 2014).
* Next: Autism in a dish? (September 4, 2015).

My page for Biotechnology in the News (BITN) -- Other topics includes a section on Autism. It includes an extensive list of related Musings posts.

A post about a "simple" single-gene disease: Sickle cell disease: a step toward treatment by activation of fetal hemoglobin (October 29, 2011).

There is more about genome analysis on my Biotechnology in the News (BITN) page DNA and the genome. It includes an extensive list of Musings posts on sequencing and genomes.
---

January 14, 2015
---

A bit of IPD -- found in Antarctica
January 13, 2015
Briefly noted...
Why the excitement? IPD means interplanetary dust. In fact, it's thought to be from comets. It may represent the material from which the solar system formed. Scientists expend considerable effort to get such stuff.
A new article reports that interplanetary dust may be in our backyard, on the ground -- at least in the pristine environment of Antarctica. Samples were collected both from surface snow and sub-surface ice, presumably reflecting recent and past falls of these "micrometeorites".
The new article focuses on showing that the newly found particles from Antarctica are very similar to those collected from the stratosphere. The authors also address some of the concerns about collecting ancient solar system material off the "ground". Comparison will continue, but the main message is that the Antarctic material may increase the amount of this primordial material available for study by a hundred fold or more.

News story: Comet dust found in Antarctica. (Science, December 5, 2014.)
The article: Cometary dust in Antarctic ice and snow: Past and present chondritic porous micrometeorites preserved on the Earth's surface. (T Noguchi et al, Earth and Planetary Science Letters 410:1, January 15, 2015.)
A recent post about the Antarctic: What if your compass pointed south? (October 24, 2014).

More... What do microbes eat when there is nothing to eat in Antarctica? (April 2, 2018).

A recent post about comets: Twins? A ducky? Spacecraft may soon be able to tell (August 4, 2014).
---
---

The real carbonic acid, at last?
January 10, 2015
Carbonic acid is H2CO3. It's made from CO2 + H2O. Carbonic acid is a weak acid; the first ionization step leads to the bicarbonate ion, HCO3-.
That's all fine, except for one thing. Carbonic acid is an elusive chemical. Until recently, it had not been considered to be a stable molecule, one that could be isolated. And recent claims of showing pure carbonic acid have run into a problem: two claims for the crystal structure of carbonic acid disagreed with each other. Without any explanation, that meant that both claims were suspect.
A new article seems to have solved that problem. The article shows which structure of carbonic acid is correct, and shows what went wrong in the other work.
The following figure shows the problem -- and the solution. We will walk though parts of it.

Summarizing... Previous work had reported two spectra for carbonic acid. In the new work, compounds were made that corresponded to each of those. One was and one was not bona fide carbonic acid. Further, there is a plausible explanation of why one of the earlier reports was wrong. Thus we now have a valid procedure for making carbonic acid.
There is another, more advanced, point to be made from the new spectra. How are the parts of the carbonic acid molecule oriented? The two -OH could point toward or away from the =O. Toward is called "cis" and away from is called "trans". The IR spectra can be interpreted in terms of these orientations (or "conformations"). It turns out, for carbonic acid, that two of the three possible forms are seen in the spectra. One is "ct", with one -OH cis and one trans; this is the left-hand structure. (The structure is labeled 1ct; the 1 refers to the specific chemical. That is, this is the cis-trans form of chemical 1.) The other is "cc", with both -OH cis; this is the right-hand structure. The "tt" form was not seen. Interestingly, their theoretical calculations indicated that the tt form was the least likely, with the cc and ct forms about equally likely. Thus, their results for the conformation of carbonic acid agree with predictions.

News story: Carbonic Acid -- And Yet It Exists! (Chemistry Views, September 23, 2014.)
The article: Gas-Phase Preparation of Carbonic Acid and Its Monomethyl Ester. (H P Reisenauer et al, Angewandte Chemie International Edition 53:11766, October 27, 2014.)
Here is an example of a post that mentions carbonic acid -- almost as if it were real: Increased CO2: effect on animals that make carbonate skeletons (January 11, 2010).

More about IR spectra:
* Evidence for dinosaur protein extended by a hundred million years (May 12, 2017).
* A water fountain for Saturn (October 23, 2011).
---

January 7, 2015

Can people learn to be synesthetic?
January 7, 2015
Synesthesia is a condition in which people have a cross-connection between the senses. For example, a person with synesthesia might associate particular colors with letters or numbers. Many such cross-connections are known.
It is estimated that a few percent of people have synesthetic traits. Why is not known. Both genetic and developmental reasons have been suggested, but nothing has been shown with any certainty. Further, it's not at all clear whether synesthesia is, in any way, good or bad.
In a new article, a team of scientists has taught adults to have a synesthetic skill.
The following figure shows some results.

What is the test? The participants are shown a symbol (letters and numbers), and asked to associate a color, from a palette, with the symbol. The score is based on consistency of color assignment in multiple trials for the same symbol. A low score means that the individual is consistent in assigning colors to symbols. (Why is that a low score? Because it means the distance on the palette between the choices for the same symbol is small.) The synesthesia community has experience with this test, and considers scores below 135 (dashed line in the figure above) as demonstrating synesthesia. Thus it appears that the trained group progressed from being non-synesthetic to being synesthetic, as the result of the training. (Other tests were also used, and showed successful training.)
What was the training that resulted in this learned synesthesia? It was what you would expect: lessons that reinforced certain associations.
The relationship of what was shown here to "natural" synesthesia is not clear. It is easy to question the significance of the kind of training that was done. However, whatever happened, it resulted in the trainees "passing" a test normally used for synesthesia. The training is a controllable lab procedure; that means that the phenomenon can be controlled by the investigators. They can control how the training is done, and they can then look for changes in the trainees. The article would seem to open up a new approach to studying synesthesia, but its significance is unclear at this point.

News stories:
* Training can lead to synesthetic experiences: Does learning the 'color of' specific letters boost IQ? (Science Daily, November 18, 2014.)
* Synesthesia Taught To Adults With Colored Letters And Memory Tests (Medical Daily, November 18, 2014.)
The article, which is freely available: Adults Can Be Trained to Acquire Synesthetic Experiences. (D Bor et al, Scientific Reports 4:7089, November 18, 2014.)
There is more information about the testing in the article, and a link to where the test is available online.

More about synesthesia:
* Can you see your hand in total darkness? (April 14, 2014).
* Synesthesia: the good side? (January 14, 2012).
* What does blue light smell like? (July 18, 2010).
---
---

How does worm "fur" divide?
January 4, 2015
About the way you might expect -- once you figure out what it is. So says a new article.
Here is one of the worms:
What is that stuff? It turns out that each "hair" is one bacterium. Each bacterial cell has one end attached to the worm surface.
As bacteria go, these are quite long. You can see that the length of the bacteria approaches that of the scale bar, which is 0.1 millimeter. That's about long enough to see by eye (though the width, a more normal micrometer or so, would preclude the bacteria from actually being visible). In fact, they are the longest rod-shaped bacteria ever observed.
Name? The bacteria don't have a proper name yet. For now, they are called the Eubostrichus dianeae symbiont, or Eds.
One question the scientists asked is how these long bacteria divide. The common way rod-shaped bacteria, such as Escherichia coli, divide is to constrict in the middle, with one daughter genome on each side. The central constriction is mediated by a protein called FtsZ.
Let's look at what these worm "fur" bacteria do. The following figure shows a single cell of Eds, with three views.
Put those three results together, and we have a verrrrrry long cell, with some FtsZ quite well localized in the middle -- between two regions of DNA.
The conclusion? These extremely long rod-shaped bacteria seem to divide just like common rod-shaped bacteria. FtsZ accumulates at the midpoint, and there is a genome nearby on each side. It's not just this one cell; they measured the location of FtsZ in many cells, and found that it localized in the middle in longer cells.

A couple things you may wonder about...
1) How does FtsZ know where the middle of the cell is? That's not known, but the authors discuss some of what is known from other bacteria. They suggest that a system involving an inhibitor of FtsZ ring formation may function in these bacteria; the inhibitor is least active at the cell midpoint. It is remarkable that this system is effective over these long distances. Further work is needed to test their suggestion.
2) What are these bacteria doing on the worm? That's not known either, but it seems likely that this is a symbiotic relationship, benefiting both worm and bacteria. It may be that the bacteria are digesting food that the worms cannot, and are thus helping feed the worms. There is precedent for such relationships, but this one remains to be studied.
We should add that cell division in these bacteria has not been directly observed; the conclusions are inferred from the type of observations discussed here.

The significance of the multiple spots for DNA is unknown. It may be that these large bacteria have more than one copy of the genome per cell.

The article actually discusses two kinds of worms and their bacterial ecto-symbionts. For the other worm, the bacteria are attached to the worm surface at both ends. Go look! Those bacteria, too, divide in the middle.

News story: Think big! Bacteria breach cell division size limit. (Science Daily, September 15, 2014.) Most of this news story, including the pictures, is about that other kind of bacteria mentioned above.
The article, which is freely available: Size-independent symmetric division in extraordinarily long cells. (N Pende et al, Nature Communications 5:4803, September 15, 2014.)
Other posts about bacterial symbionts include:
* A quasi-quiz: The fate of bone and wood on the Antarctic seafloor -- and the discovery of new bone-eating worms (August 20, 2013). This post deals with an extreme case of a worm-bacterium symbiosis, where the worm has no digestive system of its own at all.
* The hydrogen economy -- in the mid-Atlantic (August 30, 2011).
* A new organelle "in progress"? (September 13, 2010).

More worms...
* Worm count (August 27, 2019).
* How to avoid cannibalism (May 25, 2019).

There is more about large bacteria on my page Unusual microbes in the section Big bacteria.
---
---
---
The main page for current items is Musings.
The first archive page is Musings Archive.
E-mail announcement of the new posts each week -- information and sign-up: e-mail announcements.
Contact information Site home page
Last update: November 30, 2023