Musings -- May 2013 to ?? (current posts)
Musings is an informal newsletter mainly highlighting recent science. It is intended as both fun and instructive. Items are posted a few times each week. See the Introduction, listed below, for more information.
Introduction (separate page).
This page:
Current posts -- 2013 (May -??)
New items (Posted since most recent e-mail; they will be announced in next e-mail, but feel free... !
* If you would like to get an e-mail announcement of the new posts each week, see the Contact information at the top or bottom of this page.)
May 22 (Current e-mail)
May 15 May 8
Older items are on the archive page.
Links to external sites will open in a new window.

New items
Posted since most recent e-mail; they will be announced in next e-mail, but feel free...

May 22, 2013 (Current e-mail)

Red meat and heart disease: carnitine, your gut bacteria, and TMAO
May 21, 2013
It's generally recognized that consumption of red meat is associated with an increased risk of cardiovascular disease (CVD -- includes heart and artery diseases). However, the reason for the association is not clear. The cholesterol and fat contents of red meat have been suspected, but careful analysis shows that they cannot fully account for the observed effects.
A new article implicates a less well-known factor from red meat, called carnitine. Interestingly, the gut bacteria play a major role in mediating the effect of carnitine. The article suggests that those who eat red meat not only get more carnitine, but have higher levels of the gut bacteria that degrade carnitine into a harmful metabolite.
There are two key chemicals in this story. One is carnitine, which is a normal part of all biological systems -- but found in especially high levels in red meat. The second is trimethylamime oxide (TMAO), the "harmful metabolite" mentioned above. TMAO is made by degrading carnitine; in other words, consuming carnitine may lead to making the harmful TMAO.
* Chemical structures of carnitine and TMAO [link opens in new window]. However, you can follow the main ideas of the story without worrying about the chemical details.
Here is an example of the carnitine effect -- and how it interacts with the dietary habits of the consumer.
This test involves two individuals, one an omnivore and one a vegan. That is, one consumes red meat regularly, and one consumes it rarely. Both were fed a beef steak (plus a carnitine supplement). The level of TMAO was measured in their blood. The graph shows blood (plasma) level of TMAO (y-axis), vs time after eating the steak (x-axis).

There are two important observations. First, at time 0, the omnivore had a higher level of TMAO than the vegan. Second, the level of TMAO in the omnivore increased over the 24 hours of measurement, whereas the level in the vegan did not.

This is part of Figure 2a from the article.
This is one piece of evidence that carnitine can be converted to TMAO, and that some people convert it more than others do.
The article contains many experiments. With all the experiments considered together, the authors develop a hypothesis about the role of carnitine. What they propose is complex -- but very interesting. Here is a summary...
* Carnitine itself is not harmful.
* Carnitine can be converted (degraded) to TMAO.
* TMAO is harmful.
* The degradation of carnitine to TMAO is done by certain gut bacteria.
* Eating red meat leads to increased levels of bacteria that degrade carnitine to TMAO.
Here is another summary, showing more of the steps along the pathway. It should be taken as a working hypothesis. Most of the data is consistent with it, but it is far from proven, and lacks details.
Putting that all together, it seems that red meat may act by a two-step mechanism:
* first, causing increased levels of certain bacteria;
* second, those bacteria converting carnitine, found at high levels in the meat, to the harmful substance TMAO.
The paper provides some evidence for each part of the story. However, much remains open, requiring further work. Can others confirm that the proposal is correct, and relevant to humans? What part of the overall effect of red meat is accounted for by this pathway? Are there competing effects that we should know about? (Does TMAO have benefits, too?) What is the time scale of these effects? It would be particularly interesting to know how rapidly the gut microbiota adapt to the carnitine.

What should you do with this information? Probably nothing. In part, this is for general reasons. As always, Musings is not a source of medical (or nutritional) advice. The article suggests several interesting findings, but none of them have yet been proved or accepted. That's not a criticism; that's the way science works. They rather boldly suggest some new ideas. People will follow up on this work, in various ways. Even if entirely correct, it is one part of a story. What more pieces are there to the story? Do people vary in one or another step of the process? Perhaps some day this will lead to something practical, but for now it is simply one article, which raises some interesting points, worth pursuing. That red meat may be bad for you, at least at high levels, is not news. Perhaps some of you make some effort to reduce red meat consumption; that may be good, but the new article does not change the basics behind that.
One point that may arise... Some people take carnitine as a supplement. The benefits of carnitine are questionable; now we have an indication of its possible harm. Those who take carnitine as a supplement night want to re-evaluate the possible benefits and harm.

News stories:
* Red meat + wrong bacteria = bad news for hearts -- Microbes turn nutrient in beef into an artery-clogging menace. (Nature News, April 7, 2013.)
* Red Meat-Heart Disease Link Involves Gut Microbes. (NIH (a funding agency), April 22, 2013.)
* News story accompanying the article: Meat-metabolizing bacteria in atherosclerosis. (Fredrik Bäckhed, Nature Medicine 19:533, May 2013.) An excellent overview. The summary figure above is from this news story.
* The article: Intestinal microbiota metabolism of L-carnitine, a nutrient in red meat, promotes atherosclerosis. (R A Koeth et al, Nature Medicine 19:576, May 2013.) A very dense article.
Other food-related posts include:
* How good is "good cholesterol" (HDL)? (September 21, 2012).
* Cooking pork (June 4, 2011).
* What to eat (November 13, 2009). Vegetarian diets.

More on the gut bacteria... The examples linked here are on specific effects.
* Melamine toxicity: possible role of gut microbiota (April 21, 2013). Another example that implicates the gut microbiota in mediating the toxicity of an ingested chemical.
* Sushi, seaweed, and the bacteria in the gut of the Japanese (April 20, 2010). An example where the gut bacteria do something that is good.
---

Is the speed of light really constant?
May 20, 2013
It's been drilled into us since Day 1, yes? In fact, the speed of light is now a defined quantity -- a good indication that it is considered constant.
In a recent article, a team of scientists has suggested it may not be true. They have an explanation of why the speed of light should vary. They even have a prediction of how much it should vary -- and they think they can measure the variation.
Now, some caution. First, we all know that the speed of light really does vary. Light goes through different materials at different speeds. That difference is responsible for the property of refraction, which is the basis of ordinary lenses. When we say that the speed of light is constant, what we are referring to is the speed of light in a vacuum. Not a near vacuum, but a theoretical ideal perfect vacuum. A vacuum with nothing in it.
We also need to be cautious because the topic of the speed of light has been subject to some odd and even flaky conjectures over the years. In fact, my first concern when I heard about the new work is whether it should be taken seriously. Yes, apparently so -- for two reasons. First, it actually builds on some well-known physics. Second, they think it is testable. That latter point is important. If they want to propose something odd and we will never know, then what is served by worrying about it? But if their proposal leads to a test, well, that is a mark of good science: testing hypotheses. Right or wrong, the tests may be interesting.
What is this well-known physics that leads the authors to suggest that "c", as the speed of light is commonly known, varies? I laid the groundwork for it above with a short innocent statement that used to seem perfectly sensible -- but which modern physics knows is not really correct. A vacuum with nothing in it. Modern physics -- quantum physics -- teaches that particles are popping in and out of existence in the vacuum. Each event involves a particle and its anti-particle. For example, one event might involve the creation of an electron and its anti-particle, the positron; these quickly annihilate each other. Each cycle of production and annihilation is brief, but there are particles in the vacuum. And if there are particles in the vacuum, then there is something for light to interact with. And since the production and annihilation of those particles is random, the density of particles varies -- and therefore c might vary. Should vary.
If you buy the story of particles in the vacuum, with a random and fleeting existence, then their proposal makes some sense. What makes it particularly interesting is that they make the argument quantitative. Part of the paper is a mathematical derivation to predict the properties of a vacuum that affect c; since the particles are created randomly, they then predict the variability. The variation is tiny, but they think it is big enough to measure.
Example... Consider a 6000 meter trip. Light makes it in about 2x10-5 seconds (20 µs). The authors predict that that time -- the time light takes to travel 6000 m -- should vary by about 4x10-15 s (4 fs). That's a variation of less than 1 part in a billion. They think they can measure it.
So what do we have here? A prediction based on some exotic but known physics, a prediction they think they can test. We don't know if it is correct, but it seems worth noting; we eagerly await their tests.

News stories:
* Ephemeral vacuum particles induce speed-of-light fluctuations. (Phys.org, March 25, 2013.)
* Science and the Media -- Journalists look for big speed-of-light news in two physics papers. (Physics Today, March 26, 2013.) This item focuses on the news coverage of the paper. Interesting.
The article: The quantum vacuum as the origin of the speed of light. (M Urban et al, European Physical Journal D 67:58, March 21, 2013.) There is a copy of the paper, as accepted, freely available at arXiv.
The article discussed above was published along with another article that is somewhat related. Much of the news coverage discusses the two articles together. I've chosen to focus on one, but if you're intrigued by that one, you might have a look at this one, too... A sum rule for charged elementary particles. (G Leuchs & L L Sanchez-Soto, European Physical Journal D 67:57, March 21, 2013.) There is a copy of the paper, as accepted, freely available at arXiv.

Thanks to Greg for helpful discussions of this work.

More about the properties of the vacuum, as understood by modern quantum mechanics: How would you die if you visit a black hole? (May 6, 2013).

More about the properties of light:
* Transparent soil (October 13, 2012).
* What's around the corner? (January 7, 2011).
---

In vitro fertilization: Will it suffice to transfer only one embryo?
May 19, 2013
In vitro fertilization (IVF) involves just what it says: mix egg and sperm in the lab, and fertilize the egg. Some development is allowed in the lab, and the embryo is then implanted in the mother's uterus to continue pregnancy normally. The process is inefficient; it is common to implant multiple embryos in order to reduce the chance of complete failure. Unfortunately, this ends up leading to an increased incidence of multiple births -- twins and more.
A new report suggests that a team of scientists has developed embryo screening to the point that it is now practical to implant only one fertilized egg. We have only a meeting report at this point, so will leave it at that for now. The news story listed below clearly describes the basic idea and gives some useful data; it does not describe the details of the screening.

News story: Transferring Single Prescreened Embryo in IVF Offers Excellent Delivery Rates. (American College of Obstetricians and Gynecologists, May 8, 2013.) This news report is from the professional organization that sponsored the meeting where the report was given.
A previous post on screening for better embryos in IVF: In vitro fertilization: an improvement and a Nobel prize (October 15, 2010). Good general background for the current post; however, I think the screening is different. The post also noted the Nobel Prize award to Robert Edwards, co-developer of IVF for humans. Edwards died last month.

A post on IVF ethical issues: Medical ethics: pregnancy reduction (August 20, 2011).

Also see... Twins (April 30, 2009).
---

Bending a rigid rod
May 17, 2013
Have a look at the following movie: Movie (1 minute; no sound). You will see a small vertical rod being bent into a U-shape, and then released. Upon release, it returns to nearly its original upright shape.
That vertical rod is a piece of "rock" -- a mineral. Specifically, it is a piece of calcite, a crystalline form of calcium carbonate, CaCO3. Calcite is quite brittle. A recent post was about what had been a nice calcite crystal that was recovered from a 400-year-old shipwreck. (It probably had been used as a sunstone for navigation.) The authors of that work noted that survival of pure calcite subjected to sea-bottom events for 400 years is surprising [link at the end].
So what is going on in the movie?
Some sponges make calcite skeletons. And some make silica skeletons. In both cases, the animal lays down the mineral on a protein scaffold. What the authors of a new article did was to take the protein used to make silica skeletons, and -- in the lab -- deposit CaCO3 on it. It is then aged, which promotes crystallization. The product is the calcite they used in the movie above.
What is this "calcite"? It contains 10-15% protein -- the scaffold. The combination of calcite nanocrystals and the protein results in the rubbery material you see in the movie. Calcite? Well, one property of interest is its ability to serve as a waveguide, as a fiber optic cable. It seems to work fine, even in the bent form. So, at least in some operational sense, they have made a flexible form of calcite.
Remember that the protein they used here as the scaffold for making calcite is the one sponges use to make silica. Ordinary sponge calcite spicules, made on a protein intended (by the sponge) as a scaffold for calcite, has a low protein content, and is not flexible.
This is an example of making a composite material with a novel combination of properties. It is also an example of bio-inspired development: they make a novel material inspired by the way sponges do it, but they do it with their own variations to make something that is new. Can they go beyond this and make something big enough (long enough) to be useful? (Did you notice... the one in the movie is about 200 micrometers long.) That is the next challenge.

News story: Inspired by Deep Sea Sponges: Creating Flexible Minerals. (Science Daily, March 15, 2013.)
Movies. The movie file listed at the start is movie 2 from the supplementary materials with the article.
* News story accompanying the article: Materials science: Creating Flexible Calcite Fibers with Proteins -- Fracture-resistant calcium carbonate fibers were made by using a protein that normally directs silica spicule formation in sponges. (I Sethmann, Science 339:1281, March 15, 2013.)
* The article: Flexible Minerals: Self-Assembled Calcite Spicules with Extreme Bending Strength. (F Natalio et al, Science 339:1298, March 15, 2013.)
Background post about calcite... An ancient navigation device? (April 16, 2013).

More about sponges...
* Quiz: What is it? (October 31, 2012). See the answer.
* An unusual eye? (June 6, 2012).
* The Antikythera device: a 2000-year-old computer (August 31, 2011).
* Croatian Tethya beam light to their partners (December 16, 2008). This post is about silica-based sponge spicules being used for light transmission -- in the sponge.

A recent post on bio-inspired (or bio-mimetic) development: How porcupine quills work (January 5, 2013).

For more about this emerging field, see my Biotechnology in the News (BITN) topic Bio-inspiration (biomimetics). It includes a listing of some other Musings posts in the area.
---

May 15, 2013

Sharing microbes within the family: kids and dogs
May 14, 2013
Briefly noted...
We've long known that our body -- any animal body -- includes vast numbers of microbes. Modern DNA sequencing has resulted in an explosion of investigating those microbes. Studies range from simple cataloging of what is found in various body locations to associating the presence of certain microbes with one or another physiological state. Occasionally, the work has progressed to showing that replacing the microbes can correct a problem. [Links at the end.]
Of course, microbes are transmissible -- by direct contact or through a shared environment. A new article examines patterns of sharing of microbes within a family unit. "Family units" were based on a pair of adults living together -- with children, dogs, both, or neither. (There were other pets, too, including a tarantula, but they were not considered in the analysis.)
A general finding was that family members tended to have microbiota that resembled each others' more than they resembled the microbiota of other people. That is, those who live together share their microbes. The association was particularly strong for the microbiota of the skin -- and it was stronger if the household included dogs.
The article is perhaps best considered a survey at this point. They looked at lots of things. Many of the effects are small, and there is no major finding with health impact. The work is symbolic of the emerging study of the relationship between microbe and macrobe; it helps to set a base that people can build on. Finally, it's fun to browse.

News story: New study looks at microbial differences between parents, kids and dogs. (Phys.org, April 17, 2013.)
The article, which is freely available: Cohabiting family members share microbiota with one another and with their dogs. (S J Song et al, eLife 2:e00458, April 16, 2013.)
Here is a sampling of Musings posts about our microbiota. Most link to others.
* Melamine toxicity: possible role of gut microbiota (April 21, 2013). Most recent such post. It implicates the gut microbiota in mediating the toxicity of an ingested chemical.
* Propionibacterium acnes bacteria: good strains, bad strains? (April 1, 2013). Skin bacteria.
* Bacteria on human teeth -- through the ages (March 24, 2013). The oral microbiota.
* A bacterial cocktail to fight Clostridium difficile (January 19, 2013). An example where replacement microbes are used to treat an infection.
* Your gut bacteria: where do you get them? (July 30, 2010). This post deals with acquisition of bacteria by babies, depending on how they are born.
* Plants need bacteria, too (October 9, 2010). It's not just animals!

A recent post about dogs: It's a dog-eat-starch world (April 23, 2013).

A recent post about tarantulas: Tarantulas in the trees (November 11, 2012).
---

Fire from ice: is it practical?
May 13, 2013
We have discussed the deposits of methane (natural gas) that are found at the ocean bottom in structures known as methane hydrate or methane clathrate [link at the end]. These deposits contain huge amounts of methane, but are considered very difficult to access. Recently, Japanese scientists have made a serious attempt to extract methane from these deposits. A brief news report summarizes what they did. It's an interesting first step.

News story, which is freely available: Energy: Japanese test coaxes fire from ice -- First attempt to extract methane from frozen hydrates far beneath the ocean shows promise. (Nature 496:409, April 25 , 2013.)
Background post: Ice on fire (August 28, 2009).

Also see... BP oil spill incident: the methane hydrate crystals (May 18, 2010).
---

Cultural evolution: How a common folk tale takes on local characteristics
May 11, 2013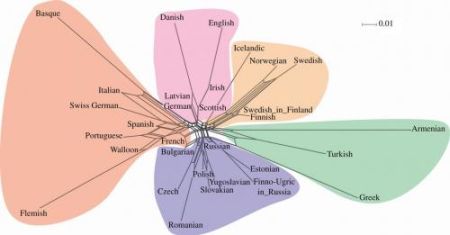 Looks like some kind of genealogy chart, showing who is related to whom? Indeed it is. It is for a story, a folk tale. It shows the relatedness of variations of a particular folk tale in different cultures throughout Europe.

This is reduced from the figure in the Phys.org news story; it also seems to be Figure 2 from the article.
The authors of a new article use the techniques of genomics to evaluate transmission of a folk story. They map 700 variant traits in 31 populations. The figure above summarizes one aspect of what they found.
Analyses such as this are not entirely new to those studying culture. In fact, genealogy charts are used in the analysis of languages -- and not without controversy. The new work studies a more specific cultural artifact, a single story. The goal, broadly, is to study the variations of a cultural phenomenon both within and between populations.
Genetic information is transferred from parent to child, with some mutations along the way for novelty. Genealogies may be more complex if there is lateral transfer. For genetics, this horizontal gene transfer (HGT) is usually thought to be small for higher organisms (but a big issue for microbes). However, lateral transfer of cultural traits might be thought to be easier; one of their goals is to be able to take it into account.
They show that both geographical and cultural factors (such as language) affect the transmission of the story. And they show that the rate the story acquires variations (mutations) is slower than the rate the population acquires genetic variations. That is, when two cultures encounter each other, they exchange genes faster than they exchange their folk lore.

News stories:
* Study shows cultural flow may be slower than genetic divergence. (Phys.org, February 7, 2013.)
* Humans Swap DNA More Readily Than They Swap Stories -- A new study looks at how changes in a widespread folktale moved around Europe. (National Geographic News, February 6, 2013.)
The article, which is freely available: Population structure and cultural geography of a folktale in Europe. (R M Ross et al, Proc. R. Soc. B 280:20123065, April 7, 2013.)
More on tracking cultural evolution...
* In what year was the word "slavery" most used in books? (February 23, 2011).
* Tracking new songs as they cross the Pacific (June 21, 2011).

A recent post on horizontal gene transfer (HGT): An extremist alga -- and how it got that way (May 3, 2013).
---

Climate change and hare color
May 10, 2013
The American snowshoe hare changes its coat color with the seasons, so that it is white when there is snow on the ground and brown when there is no snow.

Or does it?

This is Figure 2A from the article.
A new article explores this issue. What are the implications of climate change for the snowshoe hare's camouflage system? How does that system work? That is, what triggers the growth of a different color coat?
There are two parts to the work. First, the scientists watched to see when a population of hares changed color; they did this over three years. Second, they looked at the snow predictions of models for climate change for the area.
As to the hares, the key finding was that the population changed color at about the same time each year, regardless of the weather. This suggests some built-in clock, perhaps responding to day length, rather than a temperature trigger.
The following graph summarizes how this fits with the snow predictions.
The mismatch problem, now and in the future. This is an interesting but complicated graph. let's go through some parts of it slowly.

The x-axis is date. It has a broken scale, with Fall dates to the left, then a gap, then Spring dates to the right. They make the x-axis this way because the focus is on the snowy season.

Two things are plotted on the y-axis -- but only one is labeled. The y-axis scale is the percentage of hares that are white. Snowfall is also plotted, but it is basically all-or-nothing.

There is a dotted line across each graph at 60% white hares. They use this at a cutoff; populations above that line -- more than 60% white -- are considered white. (The 60% is arbitrary, but their general argument holds no matter the choice.)

Look at the top panel, for "Recent past". The black curve shows the percentage of white hares, based on their recent measurements. It rises in the Fall, and declines in the Spring -- as expected. The blue line marks the snow season. The presence of white hares before there is snow is a mismatch -- a time when the hares are more easily seen, and thus more susceptible to predation. The gray bar shows the mismatch interval -- white hares but no snow; it is a short time period starting (arbitrarily) when the population reaches 60% white until the snow comes.

Now look at the middle panel, for "Mid-century". The black curve is the same; it's the same hare data. But now, their climate change projections show that there will be a shorter snow season. The red and orange bars show two projections. The gray bars again show the mismatch interval (using the red-line snow projection). You can see that there is a longer time of mismatch in the Fall. Further, there is now a mismatch in the Spring.

The bottom panel is a similar analysis for the end of the 21st century. There are even greater effects.

This is Figure 5 from the article.
It's all very logical, and interesting. It makes a point about one effect of climate change: changing snow patterns, and their implications for animals. In fact, the authors tout their system for its simplicity. However, it is also quite incomplete, as they recognize. The understanding of the hare biology is incomplete. What about hares at different latitudes? Do they change color at the same day lengths? What happens if hares are moved from one latitude to another? Can they adapt? How long does it take? What do we know about the effects of natural snow variations on hare populations? And so forth. As often true with scientific papers on new topics, this one may raise as many questions as it answers. This paper should be taken as provocative; it should open up some new lines of research.

News story: Study finds change in snow cover patterns making snowshoe hare more vulnerable. (Phys.org, April 16, 2013.)
The article, which is freely available: Camouflage mismatch in seasonal coat color due to decreased snow duration. (L S Mills et al, PNAS 110:7360, April 30, 2013.)
This paragraph was revised May 17, 2013. In the original post, I wondered whether the photo at the top was from a natural situation illustrating a mismatch or was a staged picture. The lead author of the paper e-mailed me and assured me that all the pictures in the paper were from the actual field work. I am happy to correct my error that was in the original post, and I thank Dr Mills for contacting me. (The picture, with some other examples of good and bad camouflage, are in the paper to illustrate various degrees of mismatch. I should emphasize that I considered making staged pictures for that purpose a reasonable thing to do. There was no implication that anything was wrong. There was a question as to whether the particular animal shown was itself endangered; it was.)

More about climate change: SO2 reduces global warming; where does it come from? (April 9, 2013).

More about lagomorphs: Fossil discovered: A big stupid rabbit (April 22, 2011). The lagomorphs include the hares and rabbits. Not only are the two groups closely related, the terms often get used interchangeably.
---

May 8, 2013

The oldest dinosaur embryos, with evidence for rapid growth
May 7, 2013
Leg bone (femur); two views. About 1.7 centimeters long.

Animal: dinosaur, probably Lufengosaurus.

Life stage: embryo. [The adult animal might reach about 8 meters (27 feet) long.]

Age of specimen: 190 million years

This is Figure 2f from the article.
A new article reports analysis of a bed of dinosaur bones. The bones are of dinosaur embryos, scattered around a small area along with remnants of eggshells. The bed is of interest as the largest such collection ever found -- and one of the oldest: 190 million years.
In addition to the general description, the article makes two specific claims that have caught attention. It's not clear how solid either claim is, despite some news hype; let's note the claims and offer some perspective.
1) The article claims that these dinosaurs grew faster than any other known animal -- live or extinct. The claim is for the embryo stage, of course, since that is what these bones are from. What is the basis of that claim? There is no direct measurement of dinosaur growth rates. What they can measure in the fossil bones is the cavity in the bone -- where the vasculature (blood system) is. Previous work has shown that the size of the vasculature cavity relates to the growth rates. For example, modern warm-blooded animals, which grow fast, have a high percentage of vasculature in this measurement, whereas slow-growing cold-blooded animals, such as reptiles, have low amounts. Measurement of other dinosaur bones, showing a large vasculature cavity, has provided important evidence that dinosaurs were warm-blooded.
With the dinosaur embryo bones in this new report, they find a much higher percentage of vasculature than in any of the previous work -- much more than in birds, mammals, or other dinosaurs that have been studied. If the relationship holds, this indicates a remarkably high growth rate. But I must say, the new measurements are so much higher than the previous ones that I wonder if something is amiss. Perhaps the relationship does not hold as well back at 190 million years. I don't know. There are actual results in the paper; you can see the bones and the cavity. However, the statement about growth rates is an inference; we don't really know how good that inference is.
2) The article claims to have found "organic" matter in the bones, which they suggest might be dinosaur protein. Interestingly, this claim is noted in the article title. What's the basis of this claim? Analysis of the bone material shows evidence of the chemical linkage known as an amide bond; this is the type of bond that connects the amino acids in proteins. They argue that the most likely source for their amide signal is dinosaur protein remaining in the fossil bone. That's a provocative claim, and will be met with considerable skepticism. We have noted previous claims of finding dinosaur proteins [link at the end]. Those claims are controversial, as we have noted. The authors suggest that their work here supports that claim. I would be cautious about that. Pending further analysis, I'd suggest we say only that they claim to have detected amide bonds.

The fascination of dinosaurs! This article adds to that, with a couple of bold claims.

News stories:
* Dinosaur Embryo Graveyard -- A treasure trove of fossilized dinosaur embryos shows signs of extremely fast growth.. (The Scientist, April 10, 2013.)
* Oldest Dinosaur Embryos Discovered in China, Organic Remains Found inside Embryonic Bones. (Sci-News.com, April 11, 2013.) This story leans toward over-interpretation of the real facts; nevertheless, it is a useful story.
The article: Embryology of Early Jurassic dinosaur from China with evidence of preserved organic remains. (R R Reisz et al, Nature 496:210, April 11, 2013.)
Background post on dinosaur proteins: Dinosaur proteins (July 6, 2009); it links to more. The basic claim is that they find small pieces of collagen in their dinosaur fossils -- collagen that they attribute to the dinosaurs. Many are skeptical of the claim, and it is hotly debated. The new work is with dinosaurs twice as old, making survival of protein even less likely. But the new claim is more modest: simply amide bonds. Keep an open mind on this issue.

A post supporting the notion that dinosaurs were warm-blooded: Do animal bones have something like annual growth rings? (August 7, 2012).

More about dinosaur eggs: Dinosaurs in Tamil Nadu (December 7, 2009).

Most recent post about dinosaurs: The Obama lizard (March 20, 2013).

Thanks to Borislav for alerting me to this article.
---

How would you die if you visit a black hole?
May 6, 2013
No one knows. The theories of physics are inconclusive on the matter. Despite the perhaps frivolous title, the issues are of fundamental importance in physics. In fact, the question involves one of the great mysteries in modern physics: how quantum mechanics and relativity connect.
A recent news feature in Nature discussed the debate. It's generally rather readable, though I'm sure most will find they need to skip over some parts. (If you think you follow it all, you missed the point!) Give it a try. Fun and instructive.

News feature, freely available: Fire in the hole! Will an astronaut who falls into a black hole be crushed or burned to a crisp? (Z Merali, Nature 496:20, April 4, 2013.)
More on black holes...
* Mayhem at the center of the Milky Way (August 23, 2011).
* Black hole: simulation (March 15, 2010).

Added May 20, 2013. Also see: Is the speed of light really constant? (May 20, 2013).
---

Exploiting the bacterial immune system as a tool for genetic engineering: The Caribou approach
May 4, 2013
Molecular biologists often want to change the genome of an organism. This may be for research work, or for the type of treatment referred to as gene therapy. Of course, it is important that the change occur where we want it to; that is, we need to target the gene change. This turns out to be difficult. How do we get the incoming DNA to go to exactly the right place in the chromosome?
Those who have taken some biology may wonder whether the common process of homologous recombination would work. That is, shouldn't it be "natural" for an incoming piece of DNA to align and recombine with the corresponding region of the chromosome -- the region that looks very similar? That's a good idea. However, in higher organisms, with large genomes, it turns out that this process competes with other processes, and actually does not work very well at targeting added DNA. Therefore, molecular biologists have worked to find other ways to target added DNA. One approach is the use of zinc finger nucleases (ZFN). The idea is to design a ZFN that will make a cut in the genome at a specific position; that cut serves to target the incoming DNA. The use of ZFN was discussed in a previous post [link at the end].
ZFNs are good, but they are hard to use. The search for better methods continues -- and we now have a new entry.
Here is a cartoon that illustrates the basic idea of this new system for targeting genes.

There are three players in this diagram: a piece of DNA; a protein, called Cas9; and a piece of RNA, called sgRNA.

The DNA is the target; the goal is to cut the DNA at a particular site. The combination of Cas9 protein and sgRNA is the device for targeting the DNA.

In the figure, the DNA is shown as a thin horizontal bar. (I added the label "DNA" to the original figure.) The pair of white arrows show where the DNA will be cut. The Cas9 protein is shown by the large purplish rectangle. The sgRNA is shown, inside Cas9 and near the bottom, as a blue and red line.

That sgRNA is the key. The sgRNA guides Cas9 to the right spot on the DNA. In fact, you can see that the blue end of sgRNA is lined up with the target region of the DNA. That's the point. That is how this device targets the region of the DNA to cut.

This is the top part of Figure 1 from the Segal news story in eLife.
The role of sgRNA is what makes this system so practical. To target a new DNA site, all you need to do is design a new sgRNA. And to design the new sgRNA, all you need to do is to modify the sequence of one small region to match the desired target DNA region.
Where do Cas9 and sgRNA come from? They are based on the CRISPR system of some bacteria; CRISPR functions something like an adaptive immune system. Cas9 is the protein that mediates the immune reaction. The bacteria acquire, maintain, and use a collection of RNAs against various targets. Now, molecular biologists use Cas9, and make their own modified RNAs to order, to target a chromosomal site for a recombinational event.
Why is this Cas9-mediated system better than ZFNs? The general idea is the same. However, the new system uses an RNA molecule to target the chromosome, whereas the ZFN system uses a protein. It's easier to design a new sgRNA and it's easier to make it, compared to the ZFN system. After all, the design rules are simply the common base-pairing rules, and nucleic acid synthesis is relatively simple.

This post, like most, was motivated by a new article, which is listed below. In the new article, the scientists show that the Cas9-sgRNA system -- based on bacteria -- works in human cells. This is a milestone in developing the system, and showing its potential for use with higher organisms. We've focused above on setting the stage for Cas9; we'll leave it at that for now.

News story: Cheap and Easy Technique to Snip DNA Could Revolutionize Gene Therapy. (Science Daily, January 7, 2013.) This news story refers to multiple papers, including the one noted below. It's a popular field, with many labs making rapid progress.
* News story accompanying the article; it is freely available: Genome engineering: Bacteria herald a new era of gene editing -- The demonstration that nucleases guided by bacterial RNA can disrupt human genes represents a landmark in the rapidly developing field of genome engineering. (D J Segal, eLife 2:e00563, published alongside the article.)
* The article, which is freely available: RNA-programmed genome editing in human cells. (M Jinek et al, eLife 2:e00471, January 29, 2013.) The paper is from Jennifer Doudna's lab at UC Berkeley.
Doudna, with lead author Jinek and other colleagues, has founded a company to commercialize the system. The home page of Caribou Biosciences says, "Caribou Biosciences, Inc. is a biotechnology company dedicated to developing novel life science research tools. Caribou Bio's current technologies rely on the unique properties of CRISPR-associated (Cas) proteins from the recently-discovered prokaryotic immune system called CRISPR."

Background post: Gene therapy: Curing an animal using a ZFN (August 9, 2011). The post provides some good background, and describes some success with ZFN.

A post about CRISPR, the bacterial immune system: A virus with an immune system -- stolen from a host? (March 25, 2013).

Central Dogma of Molecular Biology (August 16, 2011). A key idea of the Central Dogma is that nucleic acids -- DNA and RNA -- speak the same language, by the common base-pairing rules. That's behind the appeal of the Cas system described here.

More about gene therapy is on my Biotechnology in the News (BITN) page Agricultural biotechnology (GM foods) and Gene therapy.
---

An extremist alga -- and how it got that way
May 3, 2013
Organisms that grow under very unusual conditions are often called extremophiles. Examples of those extreme conditions might include very high (or very low) temperature or acidity. It is a useful generalization that such extremophiles are found primarily among the prokaryotes -- the bacteria and archaea.
Galdieria sulphuraria is an alga that is something of an extremophile. It grows under various extreme conditions. Further, it is capable of growth under quite diverse conditions -- more diverse than common for such algae. That is, this alga is unusual among its type -- unusual in several ways. A new article reports the genome analysis of this extremist alga, and reveals its secret: it has "stolen" many genes from prokaryotes.
When we refer to genes being "stolen", we are referring to horizontal gene transfer (HGT). The "normal" process of gene transfer is from parent to offspring. However, biologists are recognizing more and more examples of gene transfer that does not follow that pattern. HGT involves a gene showing up in an organism but not in its parents. How it got there is usually not clear, though agents such as viruses are suspected; there may be multiple mechanisms possible. Such HGT is now recognized as common among the prokaryotes -- so common that it might even obscure their simple genealogy. HGT is thought to be relatively uncommon with eukaryotes. However, the genome analysis of Galdieria sulphuraria suggests that 5% of its genes appear to be prokaryotic genes. Further, many of these genes seem likely to be responsible for its unusual properties.
How do we tell that a gene has come from HGT? That is, how do we tell that it is foreign to the organism? There are various clues; the following figure illustrates one of them.
The analysis of this algal genome shows 6623 total genes. Of those, 337 genes are thought to have arisen by HGT.

The graph shows the distribution of introns in those two sets of genes. For example, if you look at the bars for 0 introns (left bars), you see that about 28% of "All Genes" (blue bar) have 0 introns. However, over 50% of "HGT Candidates" (red bar) have 0 introns.

(The average number of introns per gene is 2.06 for all genes. but only 0.8 for genes thought to have arisen by HGT.)

This is Figure S6 from the article (from the supplement with the article).
You can see that genes thought to be "foreign" (from prokaryotes) have fewer introns than typical of this alga's genome. In fact, low intron number is a general characteristic of prokaryotes. This illustrates how genes can reveal that they have unusual characteristics, suggesting an unusual origin.
You may be thinking that the evidence above is weak. The number of introns varies, in both prokaryotic and eukaryotic genes. You are right. The argument above is to give one example of how genes may differ from one type of organism to another. I chose this particular example to present because there was a nice graph to illustrate it. In the article, they present various such arguments about the nature of the genes. Further, one can never show for sure that a particular gene is foreign; one can only argue that a gene has unusual features, and is likely to be foreign -- given the weight of the evidence.
Bottom line... An unusual alga, with some novel capabilities; it seems to have acquired the genes for these novel capabilities by horizontal gene transfer from prokaryotes.

News stories. Both of the following include pictures of this alga in its natural environment, as well as lab cultures.
* Algae Get Help to Go to Extremes -- A red alga appears to have adapted to extremely hot, acidic environments by collecting genes from bacteria and archaea. (The Scientist, March 7, 2013.)
* How the Lord of the Springs Survives Where Most Things Die. (E Yong, Not Exactly Rocket Science (National Geographic blog), March 7, 2013.)
* News story accompanying the article: With a Little Help from Prokaryotes -- Red algae can adapt to extreme conditions through horizontal gene transfer from free-living prokaryotic extremophiles. (E P C Rocha, Science 339:1154, March 8, 2013.)
* The article: Gene Transfer from Bacteria and Archaea Facilitated Evolution of an Extremophilic Eukaryote. (Gerald Schönknecht et al, Science 339:1207, March 8, 2013.)
More about horizontal gene transfer:
* A virus with an immune system -- stolen from a host? (March 25, 2013).
* UCA passes test (June 6, 2010) This post addresses the concern that HGT may conceal the simple genealogy of prokaryotes.
* Lesbian necrophiliacs (March 8, 2010). Another case where HGT may be common in a eukaryote. See discussion of "paper 2" on the supplementary page for this post.

Added May 11, 2013. Also see: Cultural evolution: How a common folk tale takes on local characteristics (May 11, 2013).
---
---
Older items are on the archive page.
Contact information Site home page
Last update: May 22, 2013