Musings - DRAFT items
Items on this page are for testing and checking.
If I ask you to check an item here - presumably one you submitted...
Please check it and comment on any aspects you want to. You are free and welcome to change anything. You can add or delete info, or whatever. You can change the way I used your name, in any direction; if you want more credit or more privacy, just say so. You can re-write the whole thing, or tell me to delay or cancel the item. I will check the links, but of course you can, too.
There is no "deadline", but it helps if you will acknowledge the posting within a few days. If you're happy with the draft post, let me know. If you need more time, let me know. (I will adjust the date shown to be that of posting on the Musings page.)
This page may contain various things. And they may be less than fully written or checked. Don't worry about things other than the one I ask you about. But if you do have comments, let me know.
---

Earth: RSSA
September 8, 2018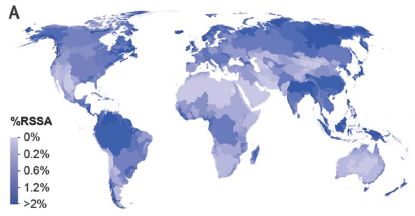 This is Figure 4A from the article.


News story: TITLE. (SOURCE, DATE.)

ux3 9-6


News stories:
* TITLE. (SOURCE, DATE.)
* TITLE. (SOURCE, DATE.)

* News story accompanying the article: Geology: Measuring Earth's rivers -- Satellite images enable global tally of freshwater ecosystems and resources. (M Palmer & A Ruhi, Science 361:546, August 10, 2018.) Temporary pdf copy.
* The article: Global extent of rivers and streams. (G H Allen & T M Pavelsky, Science 361:585, August 10, 2018.) Temporary pdf copy.
Also see:
---
---
Musings: "current" public page
Musings: 2018 -- Sep-Dec Musings: 2018 -- May-Aug Musings: 2018 -- Jan-Apr
Musings: 2017 -- Sep-Dec Musings: 2017 -- May-Aug Musings: 2017 -- Jan-Apr
Musings: 2016 -- Sep-Dec Musings: 2016 -- May-Aug Musings: 2016 -- Jan-Apr
Musings: 2015 -- Sep-Dec Musings: 2015 -- May-Aug Musings: 2015 -- Jan-Apr
Musings: 2014 -- Sep-Dec Musings: 2014 -- May-Aug Musings: 2014 -- Jan-Apr
Musings: 2013 -- Sep-Dec Musings: 2013 -- May-Aug Musings: 2013 -- Jan-Apr
Musings: 2012 -- Sep-Dec Musings: 2012 -- May-Aug Musings: 2012 -- Jan-Apr
Musings: 2011 -- Sep-Dec Musings: 2011 -- May-Aug Musings: 2011 -- Jan-Apr
Musings: 2010 -- Jul-Dec Musings: 2010 -- Jan-Jun
Musings: 2009
Musings: 2008
Contact information Site home page
Last update: September 16, 2018